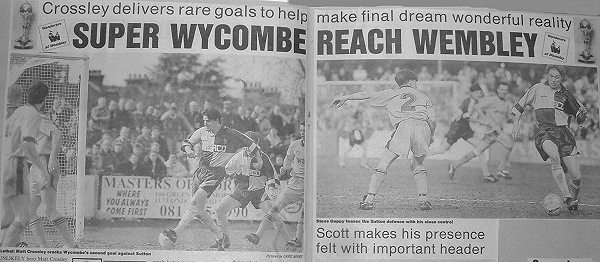 What they said in the press:
Martin O'Neill "Keith Scott coming back was psychologically a major boost here in the dressing. If he was able to put hsi boots on in his fitness test, he would have played. If Alan Gane had read that Scott was playing when the team sheets arrived in the dressing room at half past two, he would have been deflated"

John Reardon (Assistant Manager) "Jason led by example. He was absolutely brilliant. I can't remember him getting beaten in the 90 minutes"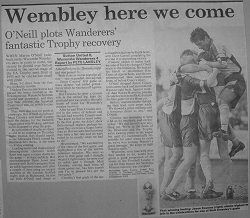 Jason Cousins "I'm not so sure about that. I had ten others around me looking after me"

Steve Thompson "Jason and Matty were unbelievable, Aky (Hakan Hayrettin) was superb in midfield and Scotty played well. If I was to pick four, it would be them"

Paul Hyde "I've never felt emotion like it - I don't whether to laugh or cry. Scotty coming back - we needed him. He's been tremendous all season and what a difference he made for us. I think Matt Crossley's been outstanding this year too. But the whole team performance today was outstanding."

Matt Crossley "Martin had said to me at Dagenham when we played there in the Drinkwise that I'd never get him a goal. I told him I'd get an important one". Crossley's previous goal for Wycombe had been in January 1992 against Slough.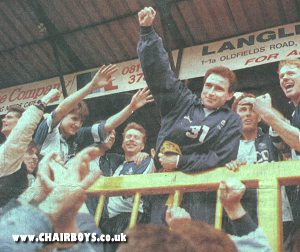 Andy Kerr
"The team were brilliant. They showed a real depth of character coming here, away from home, one goal down, and then walking all over Sutton"
Keith Scott
"Of course I could imagine it because we're the best non-League side in the country"
Glyn Creaser
"I'm obviously delighted for the lads. They worked hard and they deserved it. When I hear the crowd shouting 'Give us a wave' and all that...I'm an emotional person at the best of times, but they've been maginficent for us"
Martin O'Neill
"Obviously it was a do or die, But not many teams, even up to a couple of divisions ahead of us, will beat us over two matches. There was a great resilience about the team and a ferocious desire to win"
[Previous - Sutton beaten in Trophy Semi] --- [Next - Football League promotion secured]