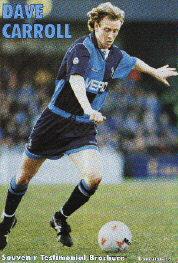 Dave Carroll - Testimonial Season 1997/98
Testimonial Match - v Leicester City - Wednesday 12th November 1997
A slightly disappointing crowd of around 3,000 braved the cold weather on Wednesday night for Dave Carroll's Testimonial against Leicester City. Two goals from Kim Casey earnt a Dave Carroll XI a 2-1 victory against Martin O'Neill's boys with Steve Guppy swaping shirts at half-time to join up with some of his former team mates. An array of old faces turned out to pay tribute to Jesus, with the biggest cheers being reserved for Paul Hyde, Terry Evans and the legendary Super Simon Garner. Gary Parker gave Leicester an 8th minute lead with a low shot which had the Valley End chanting 'dodgy keeper' to Hydey. Casey equalised 4 minutes later and eventually slotted in the winner with 12 minutes remaining. Five-a-side expert Chuck Moussadik was amongst many obscure second-half substitutions for Wycombe that included John Gregory showing us how to pass the ball and Alan Parry showing his age.
Wycombe Line-Up first-half
Paul Hyde, Jason Cousins, Stuart Cash, Terry Evans, Terry Howard, Steve Thompson, Dave Carroll, Keith Ryan, Kim Casey, Simon Garner, Aaron Patton
Wycombe Line-Up second-half
Paul Hyde, Matt Crossley, Alan Beeton, Terry Evans, Andy Kerr, John Gregory, Dave Carroll, Gary Wraight, Tim Langford, Kim Casey, Steve Guppy.
Chuck Moussaddik, Neil Smillie and Alan Parry were also amongst the subs.
Leicester City
Pegguy Arphexad, Robbie Savage, Steve Guppy, Stuart Campbell, Spencer Prior, Muzzy Izzet, Neil Lennon, Gary Parker, Graham Fenton, Ian Marshall, Pontas Kaamark.
John Robertson, Richard Hill and Steve Walford all made second half appearances for Leicester.