Northampton Town 0
Wycombe Wanderers 3
Tuesday 30th August 2016
Football League Trophy - First Round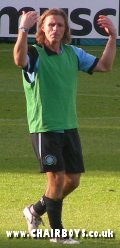 Gareth Ainsworth made a brief cameo appearance for Wanderers as his side won 3-0 at Northampton Town in the revamped version of the Football League Trophy. The Wycombe boss played the final five minutes at Sixfields and assisted fellow substitute Garry Thompson with the third goal in stoppage time. Earlier strikes from Danny Rowe on 18 minutes and Paul Hayes 47 minutes had Wanderers on their way to a victory in the first of the three group games.

Ainsworth's appearance was his first since for Wanderers the final day of the 2012/13 season and came on an evening where he made five changes to the side that had lost 2-0 at home to Colchester the previous weekend - Will De Havilland, Matt Bloomfield, Stephen McGinn, Nick Freeman and Paul Hayes - all returning to starting XI, with Aaron Pierre, Sam Wood, Adebayo Akinfenwa and Thompson switched to the bench and Marcus Bean the latest addition to the Wanderers injury list.

Victory versus Northampton netted the Club £10,000 in prize money. However, the attendance of 1,408, including just 74 from Wycombe, summed up how important this game is seen in the eyes of the public. The remaining group games for Wanderers are home games against Coventry City and an U23 West Ham United side.

Full-time - Northampton 0 Wycombe 3

Wycombe: Blackman, Harriman, Stewart, De Havilland, Jombati, McGinn, Rowe, Bloomfield, Freeman, Hayes (sub 75 Thompson), Southwell (sub 85 Ainsworth) subs not used: Richardson, Pierre, Wood, Akinfenwa
Scorers: Rowe 18, Hayes 47, Thompson 90+3
Bookings: De Havilland 58
Northampton: Cornell, Buchanan, Diamond, DíAth (sub 74 Sonupe), Byrom, Revell, McCourt, Beautyman (sub 57 Gorre), Phillips, Nyatanga, Hooper (sub 57 Hanley) subs not used: Smith, Moloney, McDonald, Taylor
Scorers: none
Bookings: Sonupe 89
Referee: Paul Tierney
Attendance: 1,408 (away 74)

Speaking after the game, Wanderers Manager Gareth Ainsworth told the press: "It [the appetite to play] never disappears and you always think you can do it. I probably have to say thanks to my Sunday league team as well because they have kept me pretty fit and I have not let the game go. It is easy to let the game go and say youíre finished, but I love the game and I love my Sundays. I train with the boys and still enjoy the competitiveness. I think you see that in the tackles and the celebrations at the end, so it was easy to get back into it."

Ainsworth's inclusion in the squad came after the Club confirmed long term injuries to both Joe Jacobson and Marcu Bean. These added to the injuries sustained by goalkeeper Scott Brown and midfielders Paris Cowan-Hall, Luke O'Nien and Myles Weston. New signing Max Muller is also expected to be missing until the new year. Ainsworth added: "I have kept myself fit and I am glad because I wouldnít have dreamt we would have an injury crisis like we have at the moment. This is a serious injury crisis at Wycombe Wanderers and we are talking about months out for seven or eight players in a squad of 22. It was an educated decision, it wasnít a glory decision by any means and I would never disrespect anything by putting on a 43-year-old. I thought I held my own and would do again if needed. I just cannot have any more injuries. I am not saying I didnít enjoy it, of course I did, and itís fantastic to get the boots back on."

The Wycombe Manager was also keen to return to commenting on the match itself, saying: ďI was pleased with the assist for Thommoís goal and it was probably the oldest two players on the pitch combining. Letís not talk about that, letís talk about the players on the pitch tonight. If we can play like that week in week out we will be absolutely fine. Forgetting myself, the performance was brilliant and the lads were outstanding tonight."