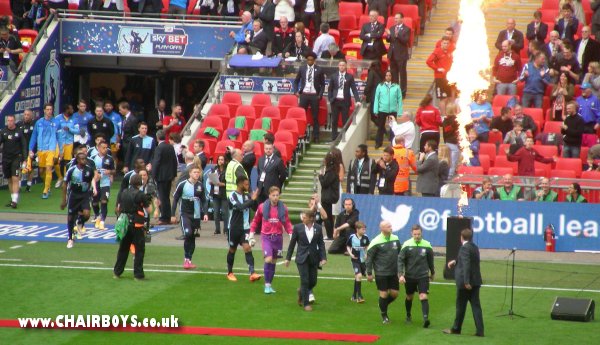 Wycombe Wanderers 1
Southend United 1
Wycombe lost 6-7 on penalties after extra-time
Saturday 23rd May 2015
Football League Two - Play-off Final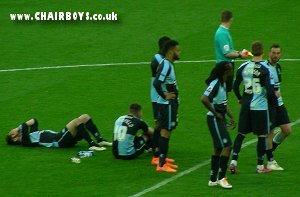 The football dictionary definition of 'cruel defeats' was re-written at Wembley Stadium on Saturday 23rd May 2015 as Wanderers missed out on promotion to 'League One' in the most emotionally twisted manner - losing in a penalty shoot at Wembley Stadium having lead Southend until the very final minute of stoppage time in extra-time. The game had ended 0-0 after 90 minutes but five minutes into extra-time Shrimpers 'keeper Daniel Bentley deflected a Joe Jacobson 25 yard free-kick into his own net and the score stayed the same until the 122nd minute of the match when Joe Pigott slotted home through a crowd of players from the left to send the game to penalties.

Southend went first first in the shoot-out and Wanderers were briefly ahead when Alex Lynch saved Ben Coker's kick. However, Matt Bloomfield had Wanderers' 4th penalty saved and in the sudden death shoot-out it was United 'keeper Bentley who tipped Sam Wood's penalty onto the post to break the hearts of the 17,000 plus Wanderers fans in the 38,000 crowd and send the Wycombe players to their knees. It was a cruel end that left Wycombe fans, players and officials alike in a state of shock. The final few minutes of extra-time are likely to be re-run time and time again in the minds of Wycombe followers, in a case of 'what might have been' to complete a dream ending to a roller-coaster season.




Wanderers began the day naming a starting line-up the same as the one that had beaten Plymouth Argyle in the semi-final second leg at Adams Park just over a week previous. That meant that Alex Lynch continued in goal for his third consecutive start in place of the injured Matt Ingram, while Hogan Ephraim started again in favour of Steven Craig - the latter returning from injury on the bench.

Wanderers' run-in to the season had seen a catalogue injuries for Gareth Ainsworth's squad but they were dealt another blow within three seconds of the kick-off when Sam Saunders was caught in a challenge from The Shrimpers Will Atkinson and it soon became apparent he would be able to continue - Matt Bloomfield getting his first chance on the Wembley turf after just three minutes.

That set the scene a cagey first-half with few chances for both sides. Lynch collected a confidence boasting loose ball in the box on 14 minutes after Southend had forced a corner on the right. Then Paul Hayes was booked for a foul on Stephen McLaughlin in the 22nd minute on the Southend left and from the resulting free-kick The Shrimpers had the ball in the net when Barry Corr headed past Lynch from around 10 yards but the whistle had already gone for Cian Bolger's push on Nico Yennaris.

Wycombe started to find their feet when Hayes' shot on 25 minutes ended with the ball in the net but the effort was ruled out for offside. Wycombe, and Hayes in general, continued to look a threat and a better connection to Hogan Ephraim's swinging cross from the left on 39 minutes may have troubled Bentley more. Four minutes before the break Ephraim was involved again when he squared to Wood whose dipping shot from 25 yards was just a shade too high of the target.

With both sides kicking towards their own fans in the second-half, the game began to open up. Ephraim had a shot from the left deflected wide a minute after the restart, while Jacobson continued to show his potential threat from set pieces when he curled a free-kick over the bar on 55 minutes. But Southend's best spell of the game followed just after the hour mark. Lynch got down quick to save a 63rd minute header from Corr and there were big claims for a penalty on 69 minutes when Jacobson appeared to push Corr in the back but referee Hooper was not swayed. Two minutes later a Southend ball from deep on the right saw Barrett stretch for a header at the far post that went wide of the target.

But Wycombe responded against the side that had won seven out of their final eight League games of the regular season. An Ephraim snap shot from the left seemed to strike a Southend arm on the edge of the box but it would have been a harsh call from the referee. On 75 minutes Hayes found space on the left from Aaron Holloway's flicked pass but his low angled shot was parried by Bentley before the loose ball was cleared. Wycombe's best chance to win the game in normal time came on 87 minutes when Wood fed Jacobson on left of the box and his first time cross was met by Aaron Pierre whose Roy Essandoh style bullet header from 10 yards was tipped over the bar by Bentley. A goal then for Wycombe would have sparked celebrations on par with Filbert Street 2001 but instead it was on to extra-time.

90 minutes - Wycombe 0 Southend 0

Something had to give and Wanderers finally got the breakthrough just five minutes into the additional 30 minutes. A foul on Holloway by Michael Timlin just to the right of centre saw Jacobson step up and curl his free-kick over the Southend wall and onto the underside of the crossbar. The ball bounced down in front of the line and then onto the back of 'keeper Bentley and into the net. The Wanderers players celebrated and the Wycombe following at the other end of the stadium erupted.





The remaining 25 minutes was perhaps as expected from a tie with one side leading by a goal and certain players beginning to struggle with injury - Nico Yennaris eventually being replaced by Peter Murphy. The pivotal moments came in the final five minutes. With Southend pushing forward, Wycombe broke away down the left channel towards their own fans through the increasingly impressive Holloway. But with substitute Steven Craig to his right, United got a tackle in and the lose ball was collected by Bentley. The referee signalled two minutes of stoppage and with just 30 seconds of those left to play, Bloomfield picked up possession for Wycombe in his own half and ran down the right wing looking for options. In a moment of hesitation and with four Southend players closing in he lost the ball and The Shrimpers broke down their left wing. As the screams from the Wycombe fans got louder, the ball was crossed and headed back to Pigott whose low shot went past the flaying legs of the Wycombe defence, past Lynch and surreally into the back of the net. The goal had similarities to the late goal conceeded to Plymouth in the Play-Off Semi-Final 1st Leg but the pain was infinitely more. It was like a dagger in the hearts of the Wycombe players and followers alike. From ecstacy to agony does not even begin to describe the feeling for those watching. Within 30 seconds the horror of the penalty shoot out was upon the two sides and while Wycombe should have been celebrating promotion, the players had to regroup for the lottery of the spot-kicks.

Full-time - Wycombe 1 Southend 1

Penalties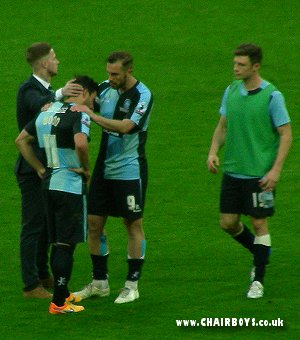 With Manager's Gareth Ainsworth and Phil Brown standing side by side, Southend took the first kick. Pigott scored to put the pressure on Peter Murphy but he slotted home too. There was then hope for Wanderers when Lynch saved Ben Coker's kick down the centre with his legs. The spot-kicks continued to be converted until Bloomfield saw his effort saved by Bentley. Timlin scored and Marcus Bean kept his head to send the penalties to sudden death. For those who could bear to watch, five more spot-kicks were converted before the inevitable point where one or other of the teams had that moment of misfortune. It was at around 8.25pm when Sam Wood saw his kick tipped onto the right-hand upright by Bentley. The Southend players rushed forward in delight but it was the sight of the Wycombe players collapsing in disappointment that will be the overriding memory.

How the penalties unfolded - Southend went first
1-0 Pigott scored - 1-1 Murphy scored
1-1 Coker saved - 1-2 Mawson scored
2-2 Leonard scored - 2-3 Hayes scored
3-3 Payne scored - 3-3 Bloomfield saved
4-3 Timlin scored - 4-4 Bean scored
Sudden death
5-4 Barrett scored - 5-5 Jacobson scored
6-5 Weston scored - 6-6 Holloway scored
7-6 Bolger scored - 7-6 Wood saved

The feeling of heartbreak was massive but in the moments following Sam Wood's penalty tragedy Wanderers fans stood strong to applaud the players and Gareth Ainsworth took to the pitch to return the compliment. Football is sometimes a very cruel game and this will be the one that all other Wycombe disappointment will be measured by. There will be more significant defeats for Wycombe but in the immediate aftermath of this loss it was pure heartbreak mixed with sympathy for the players who had given their all.

While Wycombe fans quickly filed out the stadium, it was left to Ainsworth to face the cameras and provide the words that would begin the healing process for the players and fans alike. It has become a bit of cliche to say how far Wanderers have come since that day at Torquay in May 2014 but it is testament to the progress that Ainsworth and the team around him have made that perhaps the most difficult task ahead of him now will be managing the expectations for the 2015/16 season.


Wycombe: Lynch, Yennaris (sub 111 Murphy), Mawson, Pierre, Jacobson, Wood, Bean, Saunders (sub 4 Bloomfield), Hayes, Ephraim (sub 85 Craig), Holloway - subs not used: Horlock, McClure, Kretzschmar, Onyedinma
Scorers: Bentley (og) 95
Bookings: Hayes (22), Mawson (90), Wood (114)
Southend: Bentley, White, Bolger, Barrett, Coker, Worrall (sub 97 Payne), Atkinson (sub 80 Weston), Leonard, Timlin, McLaughlin (sub 60 Pigott), Corr - subs not used: T. Smith, Prosser, Deegan, Cassidy
Scorers: Pigott 122
Bookings: Bolger (31), Leonard (114),
Referee: Mr Simon Hooper
Attendance: 38,252 (approx 17,000 Wycombe)
Post match reaction:

Commenting directly after the game to the Sky cameras, Gareth Ainsworth said, "I am proud and I am optimistic for Wycombe. It is obviously a devastating way to lose but not for me, the players will feel it more than me. I am ready now to build. I have had a great taste of it - a phenomenal season - and I'm really looking forward to starting again on August 8, I really am. The players are down and they have given everything - that coupled with their tiredness. They have given everything on the day and did not get anything out of it but I'll be telling them to look at the bigger picture - if you look at the feeling 12 months ago. It has been an amazing turnaround and I have nothing but admiration for the players, fans and staff and I'll be relishing working with them again."

Directly after Southend's penalty shoot-out victory Ainsworth watched some of his players collapse to the ground but he quickly called them together as the Wanderers fans showed their support with prolonged applause. "I told the players that nobody leaves this stadium with their head down and to be proud of the season and if anybody thinks otherwise then come to see me because I am proud of them. I have had defeats and bad moments in my career but this wasn't a bad moment. We were part of a momentous battle today."

The Wycombe boss explained how he had instigated the two Managers standing together during the penalty shoot-out, "I made a big point of standing next to Phil and saying 'I'm not going to celebrate if we score every penalty and I'm not going to rub that in your face' and he reiterated that he wouldn't do it to me and we had a good moment of respect on the halfway line when the penalties were going in because for 120 minutes we are involved and in charge but penalties is a lottery – how many times have we said that. Phil gets some stick from various places but I respect him and he has always been good to me." Ainsworth then made his players and staff watch as Southend lifted the trophy. He added: "It is about respect and it is about what Wycombe Wanderers stands for now and that is doing things the right way. I'm not going to change football on my own but you have to be respectful for your opponents and I wanted them to stand there and almost look at it and feel it. I want them to want it next year. They wanted it this year and we want it next year. It was a respectful moment because they stood up to us and tied with us over 120 minutes and there aren't many teams who have done that this year so well done Southend. [But] Wycombe Wanderers will fight another day in League Two and I can't wait."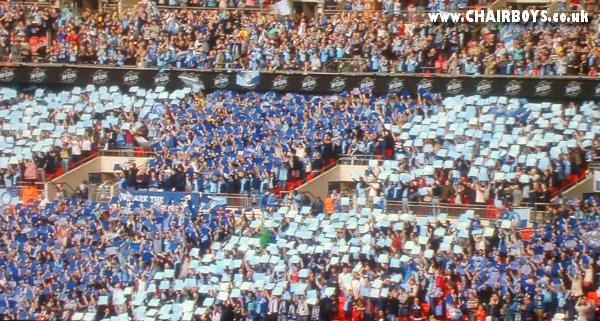 Video Links - Match highlights and Interviews:
Sky Sports - Match Highlights
Football Match Highlights (5:30)
Football GP1 Highlights (27:32)
Wycombe's goal (3:35)
Full penalty shoot-out (17:23)