Charlton Athletic 0
Wycombe Wanderers 1
Tuesday 19th December 2006
Football League Cup Quarter-Final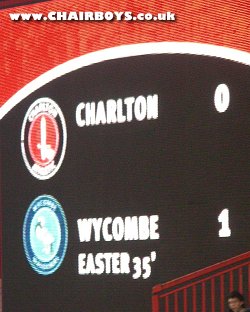 This proved to be another memorable night in South London for Wanderers followers. In February 2001 at Selhurst Park it was the drama of a late equaliser and a tension filled penalty shoot-out against Wimbledon to earn a 5th Round pop at Leicester City in the FA Cup. This time around at The Valley there may have been less drama but there was no shortage of tension after Wanderers went through thanks to a solitary 35th minute strike from Jermaine Easter.

Around 4,500 Wycombe fans congregated at The Valley to witness this historical tie and although outnumbered by the home following, they were rarely out voiced. Even the pre-match build up appeared to go in favour of Wycombe after The Addicks employed two bagpipers to provide a 'traditional' South London welcome. That did little to fire up a home side lacking confidence, while Wanderers support were rampant from the moment the team emerged from the tunnel. Wanderers won the toss too and kicked towards the travelling support. It made for an exhilarating opening 45 minutes where Wycombe could have been at least three goals to the good.

What turned out to be the winning goal came just as you may have been forgiven for thinking that Wycombe had missed their chance. Earlier in the half Stephan Oakes saw a free kick pushed away, while Tommy Mooney and Anthony Grant had efforts saved too by Addicks Liverpool loanee 'keeper Scott Carson. The decisive goal came when a clearance by Jamie Young was won in midfield by Tommy Mooney who threaded the ball through to Easter just to right of midfield. The former Stockport man, who you have to mention at this point has scored in every round, took a touch before angling a low drive past Carson from the edge of the box. Easter took his bows before the ecstatic Wycombe crowd.

Many expected to Charlton to hit back in the second period but they failed to provide any serious threat to Jamie Young's goal. Late substitutions from The Addicks set the nerves jangling again for Wycombe fans but Matt Holland and Jimmy-Floyd Hassellbaink never threatened. Then after Young had dealt comfortably with a stoppage time corner, his clearance moments later prompted referee Mark Clattenburg to blow the final whistle and confirm Wanderers second appearance in major domestic semi-final inside six years.

Final Score - Charlton Athletic 0 Wycombe 1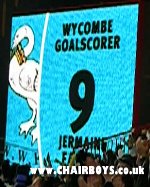 Jermaine Easter, "It was a magic moment. It is the most important goal of my career. I couldn't believe how easy it was. To be fair I thought it was going to be harder than it was. If you were a neutral watching the game and you didn't know what division was what, you would have thought that we were the Premiership team in the first half. We knew they were low on confidence and we just took advantage of it."

Manager Paul Lambert commented, "Easy? It wasn't easy from where I was sitting. It was an extraordinary effort from us. Charlton are a top class side with top class players."

Jamie Young, goalkeeper on loan from Reading, commented, "Some people have been in the game for years and never get the chance to play in a semi-final and as a kid from Australia I can't put it into words. I'm a kid from a small town in Australia. I am living the dream. I left all my family behind to play professional football in England but it has been all worth it."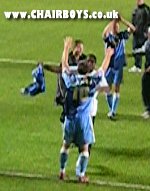 Midfielder Matt Bloomfield; "It is an unbelievable feeling. It hasn't sunk in yet and I don't know when it will. This is the best night of my career by a mile."

Stefan Oakes, who the competition with Leicester City in the 1999/2000 season said, "Charlton had everything to lose and the pressure was on them. We could just play our football and we knew we had a chance. I don't think anyone could say we didn't deserve it. The Charlton lads were gutted at the end but they were brilliant. They shook all our hands and said we deserved it and the Charlton fans clapped us off at the end as well, which was very nice of them".

Tommy Mooney was on the losing side that played in a 2003 League Cup semi-final against Liverpool. That came while he was on loan at Sheffield United from Birmingham City. "I've been a lucky lad in my career and been in some tremendous dressing rooms, the scenes at the end are something I'll never forget. I'm 35 now and didn't think I was ever going to experience anything like that again. The fans are fantastic. I don't think any Premiership team could have matched them on the night."

Final word goes to Paul Lambert, "Nobody thought we'd get by Swansea let alone Fulham, Doncaster Rovers, Notts County and Charlton. It is an incredible feat for a group of players who gave me everything they have got. I though they were absolutely extraordinary. Their goalkeeper had to make some fantastic saves for them. We were punching above our weight but my players were excellent."


Wycombe: Young, Martin, O'Halloran, Antwi, Williamson, Bloomfield, Grant (sub 62 Palmer), Oakes, Betsy, Mooney (sub 87 Stonebridge), Easter - subs not used: Christon, Dixon, Anya
Bookings: Grant, Easter
Scorers: Easter (35)
Charlton Athletic: Carson, Fortune, Sankofa (sub 75 Hasselbaink), Traore, Diawara, Faye (sub 70 Holland), Hughes, Thomas (sub 70 Sam), Rommedahl, Bent. D, Bent. M. - subs not used: Myhre, El Karkouri
Bookings: Hughes
Scorers: none
Referee: Mr M Clattenburg
Attendance: 18,940 (away 4,517)
Media links

The Daily Mail - Easter comes early...

The Daily Mirror - Reed it and weep...

The Guardian - Wycombe give Reed that...

The Independent - Easter surprise piles on the misery...

The Telegraph - Easter rising topples Charlton...

The Times - Untimely arrival of Easter...