GORMAN GIVEN SECOND CHANCE
(Tuesday 30th November 2004)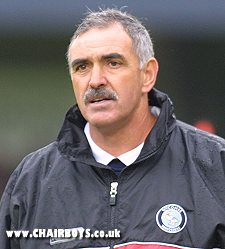 A year after being turned down for the Manager's job at Wycombe, John Gorman is being given a second chance to lead the Club into a new era following the shock departure of Tony Adams. The 53 year old Scot was announced as the new Wycombe gaffer at a Press Conference held shortly before the team set out for a LDV Vans Trophy tie at Bristol Rovers. Gorman, who has signed a deal until the end of the 2006/7 season will be assisted by Keith Ryan and Steve Brown on the managerial team.
Gorman said he was delighted to be back at Wycombe, adding in a press statement "The time spent here last season was very enjoyable and to get the opportunity to return is wonderful. Both Steve and Keith are top professionals, we had a great working relationship in the past and I'm looking forward to working with them again. Already Keith has shown what he can do and, along with Gary Smith, has done a great job. It's up to me now to get everyone moving in the same direction and build on the good work already put in place."
The former England Coach takes up the Manager's position at Wycombe following a brief spell as assistant Gillingham. However, after the recent departure of Andy Hessenthaler he rule himself out of stepping into the Manager's seat at Priestfield. He told the Kent Messenger after The Gills victory over Nottingham Forest on Saturday 27th November "The only reason I'm leaving is because I'm not going to come in here and take Andy's job, and surely anyone can understand. In different circumstances I'd have been dying for the job. But I don't think it's right that somebody should come in to help and then end up being the manager. I'm a man of principle. I've got to be honest and I must be mad, it's a great job for somebody and there are great facilities here. I've told him from day one that whatever happens I'm not going to take your job."
Gorman was red hot favourite to get the Wycombe job just over 12 months and he went on to reveal that he regretted not going wholeheartedly for the position due to speculation of joining Glenn Hoddle on a return to Southampton. He said in a press interview in May 2004, commenting "I was there for two months, and I had two really enjoyable months, and in actual fact we played really well when I was there," Gorman said. "I never thought about it when I went there at first, but I actually started thinking maybe I fancy this wee job. I like being my own boss, and I had a lot of respect from the players." He also explained the situation about constantly being connected with Glenn Hoddle "When they wanted me to interview I couldn't go for it wholeheartedly, because it was almost a done deal for me and Glenn both to go back to Southampton. But even now I would have to admit that I still regret a wee bit that I didn't take the Wycombe job because I was enjoying it that much. Now, if Glenn turned round and said there was a big job then I probably would still be interested, but Wycombe has whetted my appetite towards being my own boss again."

A former player with Spurs, Gorman's coaching career began with a spell at Gillingham in the 1986/87 season but two years later he moved on Leyton Orient. In 1991 he moved to Swindon Town as assistant to Player/Manager Glen Hoddle and the partnership saw Town promoted to the Premiership. When Hoddle joined Chelsea at the end of the 1992/93 season he was given the chance of the Manager's position which he accepted but it was a rough time for Town in the Premiership. They became the whipping boys and despite numerous high earners being signed, they were relegated. Two of those signings have significant Wycombe connections. Gorman paid £375,000 for Keith Scott in November 1993 and Scotty scored on his debut to prevent Town from setting an all time record for a worst start to a season. Gorman also signed Lawrie Sanchez at the tail end of his playing career but Town could not avoid the drop and a couple of season later were playing Wycombe in Division Two. By then Gorman had been sacked and he went on to be assistant at Bristol City before landing a coaching role with England where his friend Hoddle had now been appointed. Further assistant roles with Hoddle followed at Southampton and Spurs before his short spell with Wycombe last season.


Gorman came out second best to Tony Adams in the eyes of the Wycombe Board last season and had to beat off opposition from more than 60 applications for the post of Manager this time around. However, the Board interviewed just six names and in the week leading up to the announcement had shortlisted Gorman along with former Barnsley, Sheffield Wednesday and Bristol City boss Danny Wilson. It was the experienced Wilson who was favourite in many people's opinion but the affable Scot won over many influential figures at the Club 12 months ago. That appears to have been the major factor in his favour this time, with stability being the key at a time when the Club is undergoing numerous changes on and off the pitch.

Speaking to the media after his appointment, Gorman went on to dispel any notion that he may jump ship to rejoin Glenn Hoddle, commenting "I've said all along that I want to be my own man. Glenn knows how I feel. I want this job. I want to have a good go at management on my own. I had a great opportunity to stay at Gillingham but felt that this is the place I want to be."

Click here to read more local media reaction to the appointment

Click here for all the latest from chairboys.co.uk
---
---

FANS
FORUM
Leave your own stories and comments via
www.gasroom.co.uk
---