JONNY DIXON - 'GOING NOWHERE'
(Sunday 23rd January 2005)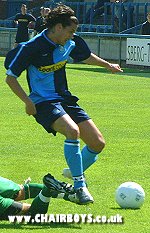 John Gorman has dismissed claims that former Youth Teamer Jonny Dixon has already been told he will be released at the end of the 2004/5 season. Dixon, who was 21 on 16th January, is currently enjoying another succesful loan spell at Aldershot and scored a hat-trick in The Shots 3-1 victory at Gravesend on Saturday 22nd January to take his tally to nine goals in the 12 games he has played to date for the Conference side.
The Wycombe Manager revealed at the Fans Forum held on Thursday 20th January that he had been told that Dixon had been upset with the stories of his imminent release from Wycombe but responded by saying "We had supposedly said he was released at the end of the season which I can tell right in front of everybody here that it is absolute rubbish, he is going nowhere."
The stories seem to have developed following a post match interview with Dixon after Aldershot's game at Thurrock on 15 January 2005 which was reported on The Shots official website (www.shotsweb.co.uk). Dixon was asked "Wycombe have apparently decided not to renew your contract when it expires in March, so are you any nearer to knowing where your future lies?" Dixon responded "I donít know yet. Footballís like that, anything can happen. Iíve been absolutely over the moon with the way things have gone here, the fans have been brilliant, the gafferís been brilliant, and so have the lads. Iíve really enjoyed my time here, but I donít know whatís going to happen in the future."
A further question asked "Wycombe are your local Club, and youíve been there quite a long time, so was being told that they werenít going to renew your contract hard to take?", to which Dixon replied "Well yes, Iíve been there since I was 14, and looking at the players still there, Iíve been there second or third longest, and Iím only, well, 21 now! It is very hard. I had a lot of good friends there, and a lot of good times, so obviously itís hard news, even if youíve only been at a club a year, to know that your contractís not going to be renewed. It is hard but I just have to look on the bright side and take the positive things from it. Iíve learnt a lot there and Iím ready to move on now."


Dixon is due to complete his loan spell with Aldershot on 19th February but could be recalled by Wycombe before then if neccessary. The situation has also been complicated by the news that Southend United striker Drewe Broughton is likely to return to The Shrimpers a month early from his loan deal with Wycombe. Broughton's expected loan period at Wycombe mirrored Dixon's agreement with Aldershot but Gorman said at the Fans Forum "He's been very unfortunate. I brought him here and if I'm being totally honest, I had never seen him play. Normally I would never do that. I just felt at the time that we needed a player of that kind of make. Clearly it's not happened for him, he's had an injury and he's also been suspended and he's a great kid and he feels it best for him as well and he may go out somewhere else on loan."
Following on from the comments on Dixon's future at Wycombe, Gorman went on to confirm he was an admirer of the youngster and hoped that his time at Aldershot would assist the player's development, adding "I think he has got a lot of talent and I would have no hestitation if somebody got injured of bringing Jonny back and give him a chance. I still feel at times he needs to learn the game a bit more and get a bit stronger and hopefully by going to Aldershot that will help him."

Click here for all the latest from chairboys.co.uk
---
---

FANS
FORUM
Leave your own stories and comments via
www.gasroom.co.uk
---