FANS FORUM REPORT - PART 1
On Thursday 17th April 2003 close to 400 Wanderers' fans packed into The Vere Suite at Adams Park to hear the views of Club officials as well as having a chance to air their own opinions and questions. Chairboys on the Net has prepared a number of reports from the evening, beginning here with a brief summary of the opening speeches.

The evening kicked off with a speech from Club Chairman Ivor Beeks who said "My whole aim this evening is by the end of the evening, together with my colleagues up here, is when you walk out of that door, we are one unitÖwe do not have a problem with Ďus and themí." The Chairman went through what he considered to be the positives and negatives of the season before Executive Financial Director Rod Tomlin explained the financial situtation at the Club. Tomlin has been acting Chief Executive since the departure of Simon Monkman and said "I picked up a ball that somebody else dropped a little while ago. I pretty sure Iím still holding it. In fact we try and keep a number of balls up at the same time and Iím not so sure that weíve actually dropped any yet. So I think itís moving in the right direction but financially you probably ought to know that itís pretty tough"
Tomlin stated the Club would lose around £400,000 in season 2002/3 but claimed in cash terms this would be reduced to £100,000 and emphasised the fact the gate receipts were £260,000 under budget for the season despite an increase of around 100 Season Ticket Holders.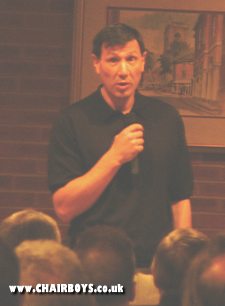 Alan Parry introduced Lawrie Sanchez to the audience by stating "The Board obviously appointed Lawrie Sanchez because we felt at the time he was the right man to take this Club forward and in that respect I think I speak on behalf of the whole Board that absolutely nothing has changed. I can promise you as well that his position as Manager has never been discussed at Board Room level this season and we donít see any reason it should because he has the complete backing of everyone on the Board."
Lawrie Sanchez was greeted with warm applause by the audience and went through a few points before letting himself open to questions from the floor. He commented "It has been a hard season for all of us. The bottom line is that we havenít been good enough and we havenít achieved what we wanted to achieve Ė thatís playerís staff and me. Iím responsible for that because Iím at the top of the pile." The Wycombe boss went on to say that he intended to see out the remaining two years of his contract, adding "I donít feel my job is finished here. I know some of you are disappointed this season. A lot of people were disappointed last season with 11th in the table and 64 points Ė the highest finish since Martin was here"



Fans Forum 17th April 2003 - Intro and index to other reports
Click here to read all the latest Wycombe news
---
---

FANS
FORUM
Leave your own stories and comments via
www.gasroom.co.uk
---