HIGH STRENGTH BLUES GOES FLAT
(Tuesday 2nd May 2000)

Wycombe Wanderers Reserves ended their miserable season in the Avon Insurance Combination with a 1-0 defeat at Millwall. With The Lions needing a point to secure the Championship they wouldn't have been impressed with The Wanderers line-up which included eight first team regulars - including top scorers Sean Devine and Jermaine McSporran. However, they needn't have worried, as in a game littered with free-kicks, Wycombe simply didn't seem interested and failed to register a worthwhile effort on target. Indeed, even when presented with a penalty in the final minute, substitute Mo Harkin shot lamely Nigel Spink's right and the ex-Villa 'keeper saved with ease.
The Lions were given a dream start when Paul Shaw squared from the left bye-line and Christophe Kinet was on hand to side foot the home side into a ninth minute lead.
For Wycombe their was an injury concern when Mark Rogers twisted his right ankle in the 10th minute and played no further part in the game after a discussion with the 'Two Tels' - Evans and Gibson. Rogers loss meant that Wycombe switched to a rather bizzare 3-5-2 formation but the nearest they came to scoring was in the 22nd minute when Lions defender Ronnie Bull headed onto the top of his own cross-bar from Martyn Lee's free-kick.
The second-half saw Millwall have further chances to seal the game but a bad miss from Phil Shaw on 52 minutes and fine saves from Mark Westhead, first from Kevin Braniff and then Kinet kept Wycombe in with a shout.
A rare Wycombe attack in the 66th minute was halted after a nasty clash of heads between Jamie Bates and Paul Shaw left the Millwall player with a bump the size of an egg on his head.
Leke Odunsi and Steven Reid were booked for The Lions while Michael Simpson received similar punishment for a lunge on Kinet.
There was less than two minutes left when Danny Senda's run into the left side of the Millwall box was curtailed by a challenge from Joe Dolan. The referee saw fir to the give a spot kick but Harkin couldn't take advantage and Millwall had done enough to clinch the title.
The defeat leaves Wycombe with just 9 points from 21 Combination games this season - having conceeded 57 goals on their way to taking the wooden spoon.
Final Score Millwall Reserves 1 Wycombe Wanderers Reserves 0
Wycombe Team: Westhead, Rogers (sub 12 Brady), Vinnicombe, Leach, Bates, Lee, Bulman, Simspon, Baird, Devine (sub 67 Senda), McSporran (sub 80 Harkin) subs not used Osborn and Gray
Millwall Team: Spink, Reid, Stuart, Odunsi, Dolan, Cort, Bubb, Bull, Braniff, Shaw (sub 67 Phillips), Kinet (sub 80 Bowry) subs not used Smith, Meade, Dunne
back to News Desk...


Click here for special offers on Book's, CD's, Video's and DVD's

---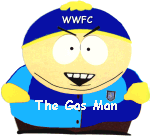 THE GAS
ROOM
Leave your own stories and comments via the Message Board