FA CUP SECOND ROUND 2000/2001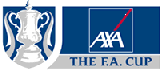 Wycombe travel to Millwall in the Second Round of the FA Cup on Sunday 10th December aiming to reach the Third Round for the first time in four seasons. The Wanderers record in the competition proper of the FA Cup has seen just five appearances at the Third Round stage, coupled with just eight victories over Football League opposition. It's that record that Lawrie Sanchez is keen to improve on as he knows the value of good cup run, not only from the point of view of generating cash but as the best possible form of increasing the profile of Wycombe Wanderers.

Wycombe v Millwall - match day essentials >>>

The draw for the Third Round will take place on Sunday (10th December) at 5.45pm and will be shown live on ITV.

FA Cup Second Round
results, attendances, dates

Bournemouth 3-0 Nuneaton 5,835
Blackpool v Yeovil (10th Dec)
Bristol City 3-1 Kettering 7,641
Canvey Is 1-3 Southend
Cardiff City 3-1 Cheltenham 9,910
Chester 3-2 Oxford United 2,798
Darlington 0-0 Luton 3,641
Luton 2-0 Darlington
Kidderminster 0-2 Carlisle 2,533
Lincoln 0-1 Dagenham & Red 2,823
Millwall v Wycombe (10th Dec)
Morecambe 2-1 Cambridge Utd 3,427
Northwich 3-3 Leyton Orient 2,703
Leyton Orient 3-2 Northwich
Peterboro' v Oldham (10th Dec)
Rotherham 1-0 Northampton 4,964
Scunthorpe 2-1 Brighton 3,879
Southport 1-2 Kingstonian 3,659
Swindon 5-0 Gateshead 3,907
Walsall 2-1 Barnet 3,699
Wigan v Notts County (12th Dec)
York 2-2 Reading 2,926
Reading 1-3 York
---
---

THE GAS
ROOM
Leave your own stories and comments via the Message Board