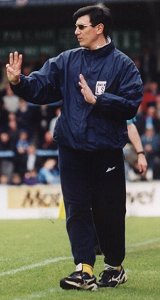 Sanchez: Wimbledon are three years from disaster
(17th January 2001)

By Rob Williams

(Thanks to Total Football magazine for this exclusive. To subscribe, Click here).

Lawrie Sanchez, speaking in the new issue of Total Football magazine, has said that Wimbledon have three years to return to the Premiership before their modern day success story evaporates and they descend down the league.

"Terry Burton is doing a good job" says the Wycombe boss. "But the fan was always going to be hit when they got relegated because the players they had were on Premiership wages and they have had to offload the big earners."

"It's nice to see some of the kids coming through, especially because I helped guide their careers when I was reserve team coach there, but it's where Wimbledon go longer term that concerns me," he continues.

"I think they have the potential to go back to the Premiership but it's got to be in the next two or three years. Otherwise, everything they accumulated will start to evaporate. If they don't manage it, then I would worry very much about their future," said the man whose goal gave Wimbledon their historic FA Cup win in 1988.

Sanchez, while looking back at the most famous day in the club's history, is philosophical about his footballing career.

"I was an average First Division player and a good pro who worked hard, that's all. Let's face it, I'd have been forgotten but for the fact that I was in the right place to score the winner," he says.

Also, Sanchez says of Wycombe: "When Terry and I took over they were
bottom of the table. We avoided relegation then finished 12th last
season with the most number of points since Martin O'Neill was manager
here. We've only been in the Football League eight seasons and I want to
set records and get this team out of the Second Division. I've signed a
long term deal for the next three and a half years. We're not as rich as
some clubs in this division but we have a good board."

For the full story, buy the new issue of Total Football on sale from Wednesday 17th January 2001.

Return to News Desk...
---
---

THE GAS
ROOM
Have your say on how Lawrie has done

---