SANCHEZ - I'M STAYING HERE
(Wednesday 17th May 2000)


Lawrie Sanchez re-confirmed his commitment to Wycombe Wanderers during a one-hour phone-in special broadcast on Wycombe local radio station 1170am on Thursday 11th May.
The Wycombe Manager said he had been hounded by the press during the previous two weeks regarding the Manager's position at Wimbledon but stated

"I'm staying here. I've been very well received by everybody at the Club and by the fans. I'm here to do a job and my job is to get the team into the 1st Division. I honestly believe if we can do one or two things off the field to bring a little more finance into the Club that we can get this team into the 1st Division and that would be tremendous. I would like to see 10,000 people week in week out watching 1st Division football here."

Sanchez, who said he had spent the previous two weeks talking to the press about Wimbledon, went on to say "I've been linked with Wimbledon for the very fact that I spent ten years as a player and four years as a coach there. If I wasn't being linked I would be disappointed because it would mean I wasn't doing a very good job here".

Sanchez also revealed that he had been in a budget meeting with Wycombe directors earlier in the week where he had been told that another 500 fans through the turnstiles would give another £100,000 of wages to pay someone.

Sanchez added "My future is here at Wycombe. I've been given the chance to do a job here. I've done what I said. When I first came I said we would avoid relegation and we've done that. I said this year would be about consolidation and we did that reasonably easily. Next year - and it is down to resources, we do need three or four good quality players. It's easy bringing in players that are similar or of the same standard but that won't improve the team. What we need is three or four better quality players than are actually on the park at the moment and then we've got a chance."

The Wycombe Manager was also quick to show respect for ex-Wycombe boss Martin O'Neill. "Martin's the person I look up to big time here. He's obviously highly respected by the fans for what he did here and he's the target that I mark myself against. Hopefully now we can go onwards and upwards and get nearer the 84 points he got in his last season here."

More from this phone-in - Sanchez goes for goals >>>>>

Return to News Desk...
---


Click here for special offers on Book's, CD's, Video's and DVD's

---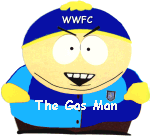 THE GAS
ROOM
Leave your own stories and comments via the Message Board