<<< Back to Part One
THE ADAMS PARK SELL-OUTS
The ground record attendance of 5,695 at the Peterborough game was broken in
February 1992 for the visit of Woking in the FA Trophy. 5,801, including a
sizeable contingent from Surrey, saw Kim Casey get the only goal of the game.
By now the Club had nudged up the capacity to around the 7,000 figure but it was the final game of the season before the 6,000 barrier was broken for the first time. Witton Albion were the visitors as 6,035 saw a 4-0 victory but it was only good enough for second place in the Conference behind the boys from Essex.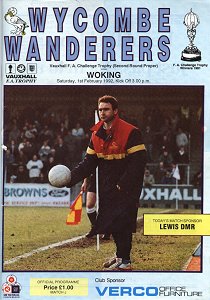 Neither the Woking or Witton games tested the new capacity of Adams Park
but when West Bromwich Albion were drawn at home in the Second Round of the FA Cup the following season there was another scramble for tickets. Improved priority arrangements by the Club meant that Season Tickets didn't have to worry
too much about their tickets but others had to join a meandering queue at Adams Park to be amongst the 7,000 lucky spectators in an all-ticket crowd. Three sides of Adams Park were terrace in those days but the lack of crash barriers on the Woodlands terrace placed a restriction on the total numbers allowed in. The SKY cameras were there to see an official gate of 6,904 witness an enthralling Sunday afternoon cup tie. The Baggies struck early to lead 1-0 and then again through Bob Taylor just before the break. It looked all over when The Baggies missed second-half chances, including one by a certain Mr Garner. There were just twenty minutes left when Guppy swung over a corner for Glyn Creaser to power home. Then with only five minutes left on the clock Steve Thompson bundled his way through from midfield before crashing in a shot from 25 yards into the Valley End net. Madness.

Over 4,000 travelled up to the Hawthorns for the replay the following week - the SKY cameras were there too. Garner didn't play but a Guppy error let in Bob Taylor during the second-half for the only goal of the game. In the final minute the mass of Wycombe fans on the away end terrace had to suffer an agonising miss from Guppy at the far post after substitute Simon Hutchinson and delivered from the right wing. A night to remember!

Later that season an insane amount of people crammed in to see a top of the table Conference clash with Slough Town. The official figure of just over 7,200 doesn't really tell the story. The overlooking woodlands and grass banks were used for free viewing as the turnstiles were closed on all areas of the ground. Scotty got the only goal on that crazy night and a few months later Wycombe were a Football League Club.

The record crowd figure was broken again during the first season in the Football League and it was another FA Cup tie - this time a Third Round meeting with Norwich City, 7,802 turning out to see The Canaries win 2-0. However, it was the second season in the Football League that the ever increasing capacity of Adams Park would be tested again.

The Adams Park sell-outs - part three >>>
---
---
---

THE GAS
ROOM
Leave your own stories and comments via the Message Board
---