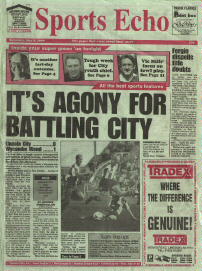 The Lincolnshire Echo was available by 6pm on the evening of the game and carried a 1½ page match report that left no detailed un-turned. The Echo commented that Paul Emblen's winning goal turned "Sincil Bank into a blue festival come the final whistle". The report also included mention of the free transport provided for Wycombe fans and added that Wycombe "brought an impressive away support to the Bank and they and the Imps followers, were in fine voice before the kick-off." The handball incident shortly before half-time brought the comment "Miller appeared to control the ball with his hand but to the consternation of the Wycombe supporters referee Singh waved play on".
---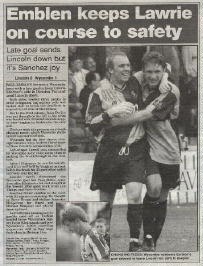 Sport First, the Sunday sport specialist paper, summed up the game by saying "Chances were at a premium in a tough physical match which Wycombe dominated from start to finish".. They continued by adding "Left-winger Carroll was outstanding" and that "Sanchez threw caution to the wind with 20 minutes remaining...and played three up front." . They finished the report by describing the celebrations after the goal as "Wild" ...Oh they were!!!
---
Locally Wycombe fans had to wait until Tuesday for The Bucks Free Press - Midweek to publish its match report. The story took over the front page with the headline "VICTORY FOR THE BLUES". Paul Emblen was described as the "£60,000 man who came up trumps to send the 2,500 travelling fans delirious". In a series of post match interviews they spoke to Chairman Ivor Beeks who had set Sanchez three tasks for the season. One was to stay in this division, two was to get rid of some of our high earners and three was to get in over £200,000 in transfer fees. Beeks added "I wish I'd given him four!". The extent of the achievement was highlighted when they commented that Sanchez was best remembered for scoring the winning goal in an FA Cup Final but speaking to him after the game Sanchez said "This is right up there with that".
---
Return to normal service