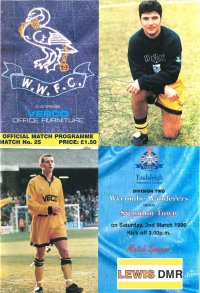 Wycombe Wanderers 1
Swindon Town 2
Saturday 2nd March 1996
Football League Division Two
Two goals in the opening 20 minutes for League leaders Swindon Town set the scene for this match. Ex-Wycombe striker Ty Gooden opened the scoring on 4 minutes when he accurately struck home from the edge of the box and beat Roberts to his right. Swindon added to their lead after 19 minutes when Peter Thorne won a 50/50 ball with Roberts and the shot looped into the net.

With Swindon's 2000 plus following making up Wycombe's biggest home gate of the season and chanting "can we play you every week", everything was pointing towards a goal riot.

The second half began on a similar vien and it was only thanks to an excellent save by Roberts on 57 minutes from Wayne Allison that the scored remained at 2-0. A minute later, however, it was 2-1 when Farrell sent in a cross from the left that was flicked on by Carroll for Desouza to strike home his 11th League goal of the season. The Wanderers best spell followed and on 70 minutes Bell had a shot deflected that Frank Talia in the Swindon goal had to head away to avoid a back pass.

The best chance of an equaliser for Alan Smith's side came on 75 minutes when another Farrell cross just failed to connect with Dave Carroll. 4 minutes later Bell had a good run into the box but the chance was deflected into the side netting. Swindon comfortably held on for their three points and the closing minutes saw Terry Evans, returning from injury, lucky to stay on the pitch when he kicked out "off the ball" at Kevin Horlock - the referee booking Horlock for the initial challenge but leaving Evans unpunished having previously been booked.

Reporting for the Bucks Free Press from Adams Park, Claire Nash wrote: 'The might of Division Two leaders Swindon Town proved too great for Wycombe Wanderers on Saturday, but only just, believes boss Alan Smith. The Wycombe manager said his side were unlucky to lose out on a point after Blues rolled their sleeves up in the second half. He believed they responded positively to Saturday's challenge despite going into the game on the back of a nightmarish 3-0 defeat at Peterborough four days before. Smith described last week's debacle as a 'freakish' result, and has sent a tape of the game to the Football Association because he feels decisions made by referee Mick Bailey, including not stopping play when Terry Howard was lying concussed on the ground, marred the game. Such was Blues' general fury about the referee, that the players were told not to comment afterwards.

Bell fashioned one of Wycombe's best chances to snatch an equaliser when he ended a great run on the left by unleashing a blistering shot that Swindon's goalkeeper Frank Talia, a surprise replacement for regular Fraser Digby, did well to palm away. Blues' record, with just one win in their last five games, means they remain in an anonymous mid-table position. But if they can carve a run of as many as two consecutive victories, or just four points from their next two matches, they would be up around the play-off zone again. So if you want to do yourself, in what remains a myriad of mind-bending permutations, a favour, it probably won't be worth reading the table again for another six weeks for a realistic idea of Wycombe's projected finish.


Wanderers were left looking as though they were relatively new to all this malarkey when Swindon, backed by more than 2,000 fans in ' Blues' biggest league gate of the season, went about their business in no-nonsense fashion. Ex-Wanderer Ty Gooden plunged the first dagger in after three minutes, scoring from 25 yards with Swindon's first attack. The diminutive midfielder, with an impressive display, continued, to make Wycombe supporters sigh about what might have been if ex-Blues boss Martin O'Neill hadn't let him go two seasons ago.

Peter Thorne, a striker who O'Neill had tried to sign last season from Blackburn before Swindon beat him to it, added a second on 19 minutes when he lobbed Ben Roberts after a long ball was flicked on to him. Swindon boss Steve McMahon was furious that his side failed to build on their first-half lead. "We weren't clinical enough. We've got to be more ruthless and kill teams off. We got edgy after they scored even though they weren't creating many chances," he said with cold stares at the press.

Blues reasserted themselves impressively after the break. It certainly wasn't for the fainthearted at times, with a Wycombe skipper Terry Evans, who passed a fitness test on a groin strain, having a battle royal with Swindon centre forward Wayne Allison. Wycombe's determined onslaught was rewarded by Miquel Desouza's goal, his 12th of the season, when he turned neatly and fired a shot past Talia and inside the post on 58 minutes.

Wycombe were unlucky that referee Kevin Breen blew up for infringement every time Evans went up for a corner, which Blues had aplenty in the second half. Evans's frustration resulted in a booking on 80 minutes.

Bell led Wycombe's push for an equaliser. He was unlucky when Talia denied him on 79 minutes and John Williams headed wide from one of his crosses on 87 minutes. But as the defender said, Wycombe still looked a yard off finding a suitable finish for a heartening draw. Brighton will now pose just as stern a test of who wants it more. Merely survival represents success for them at the moment. Wycombe's Jason Rowbotham will be serving the second of a two-match suspension for the game.


Wycombe: Roberts, Cousins, Bell, Howard, Evans, Brown, Carroll, Ryan, Desouza, Williams, Farrell - subs not used: Patterson, Stapleton, Hardyman
Scorers: Desouza 58
Bookings: Desouza 66 (foul), Evans 80 (dissent)
Swindon: Talia, Culverhouse, Drysdale, Gooden, Seagraves, Taylor, Robinson, Collins, Thorne (sub 88 Finney), Allison, Horlock - subs not used: Smith, O'Sullivan
Scorers: Gooden 3, Thorne 19
Bookings: Talia 33 (time wasting), Collins 83 (foul), Horlock 85 (foul)
Referee: Mr K Breen (Liverpool)
Attendance: 6,457

Manager Alan Smith remained relatively tight lipped after the game but Wycombe defender Mickey Bell was eager to talk, despite Blues suffering their second consecutive defeat. He said: "We feel that we are quite strong at the moment. Swindon are a good league side. They showed their class by having just two chances in the first half and scoring from them. At half time, the manager said we should take the game to them. We put Swindon under pressure in the second half. We tried to get the equaliser, but we were just a yard or two off the pace." Bell said the players are convinced they will prosper if they reproduce the best aspects from their last three performances.

But Wanderers would face a scrap against Brighton at Adams Park the following Wednesday. The South Coast club were fighting for survival both on the pitch and behind the scenes. Brighton looked set for the drop and would have no home stadium the following season following the sale of the Goldstone Ground. With Alan Smith still facing flak about Wycombe's form, the Wycombe boss said fans should be thankful they are not in their opponents' position: "Their fans are going through hell at the moment. Considering they were playing at the top level not that long ago, you can understand why they're unhappy," he said.

However, controversy relating to on the field matters would be joined by those off the pitch as the Club launched a 'vote' for a new kit design via the match day programme versus Swindon.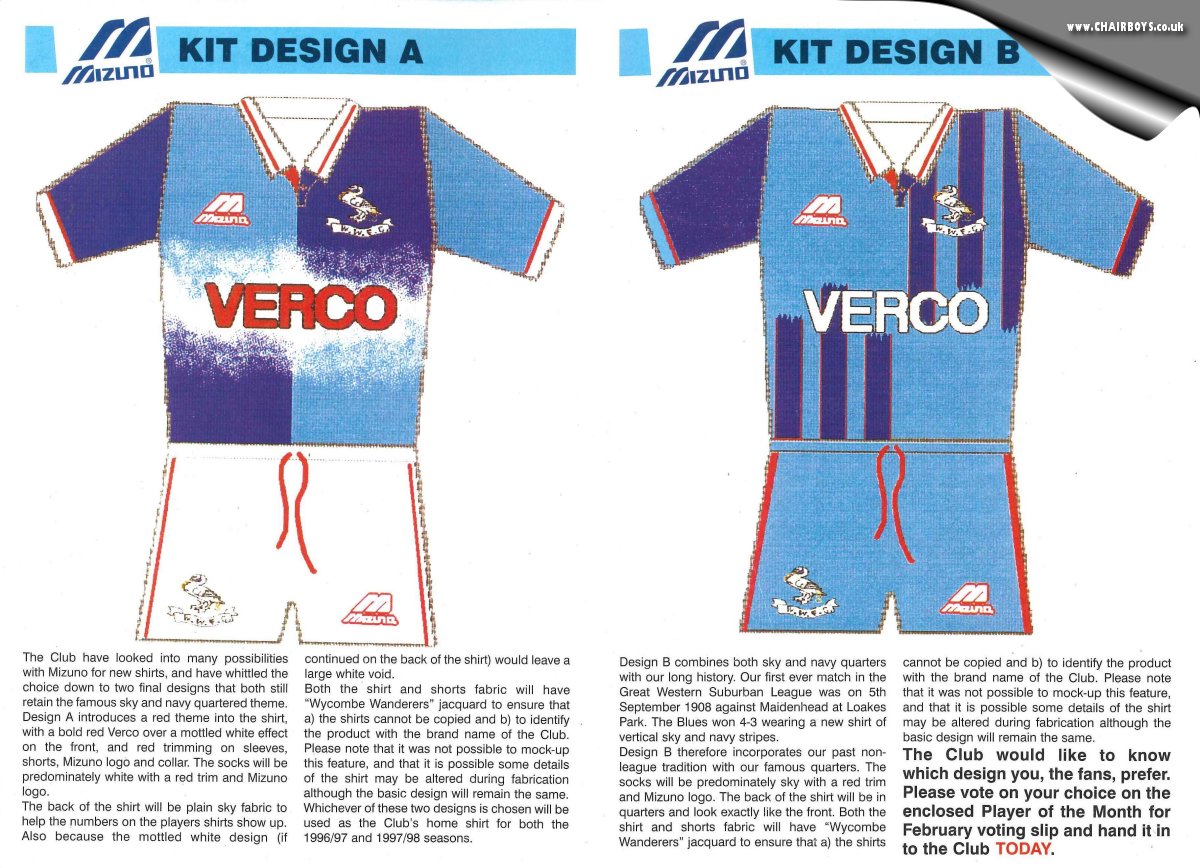 Chairboys Gas publicised the Keep The Quarters campaign the same day
One year later, there was only ever going to be one winner
Next game - Wycombe v Brighton - Wednesday 6th March 1996