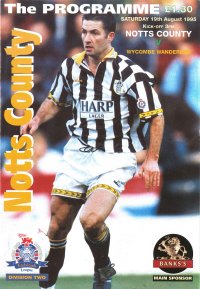 Notts County 2
Wycombe Wanderers 0
Saturday 19th August 1995
Football League Division Two
Sheffield United loanee Mark Foran was red-carded as Wanderers slipped to a 2-0 defeat at Notts County in their second League match of the 1995/96 campaign. The midweek 3-0 drubbing of Leyton Orient in the League Cup had bouyed spirits but Alan Smith's side, unchanged for the third game running, struggled to gel at Meadow Lane. Andy Legg opened the scoring for the home side just before the hour mark before Foran, already booked for an earlier offence, seemingly went on a one man mission to gain the necessary to send him down the tunnel. Smith introduced new signing Brian McGorry (signed during the week on a free from Peterborough United) as a 66th minute substitute but perhaps the predicted red-card for Foran duely arrived minutes later and Devon White's goal on 80 minutes sealed a miserable defeat for Wanderers ahead of their 2nd Leg meeting with Leyton Orient the following Tuesday.

Reporting for the Bucks Free Press, Claire Nash wrote: 'The painful process of progress hit Wycombe Wanderers straight between the eyes in Saturday's 2-0 defeat at Notts County. They struggled under pressure, for the second league game running, to stick to their new-style game plan and were again reduced to ten men when frustration got the better of them.

On-loan central defender Mark Foran was dismissed in the second half for his second bookable offence a week after full back Jason Cousins was sent off for the same reason. To Blues' attendant 500 pIus supporters, who are gagging to see Wanderers rip into the new season with point-guzzling gusto, the result and Foran's sending off was a major let-down.

Indeed, Wycombe's supporters were disgruntled. If they'd had a shepherd's crook they would have used it to yank Foran off after his first indiscretion. The young Sheffield United defender committed a foul in an elbowing incident off the ball on 72 minutes. He had already been booked, and was warned again for another foul in a first half where he clearly struggled to get to grips with Notts County striker Devon White.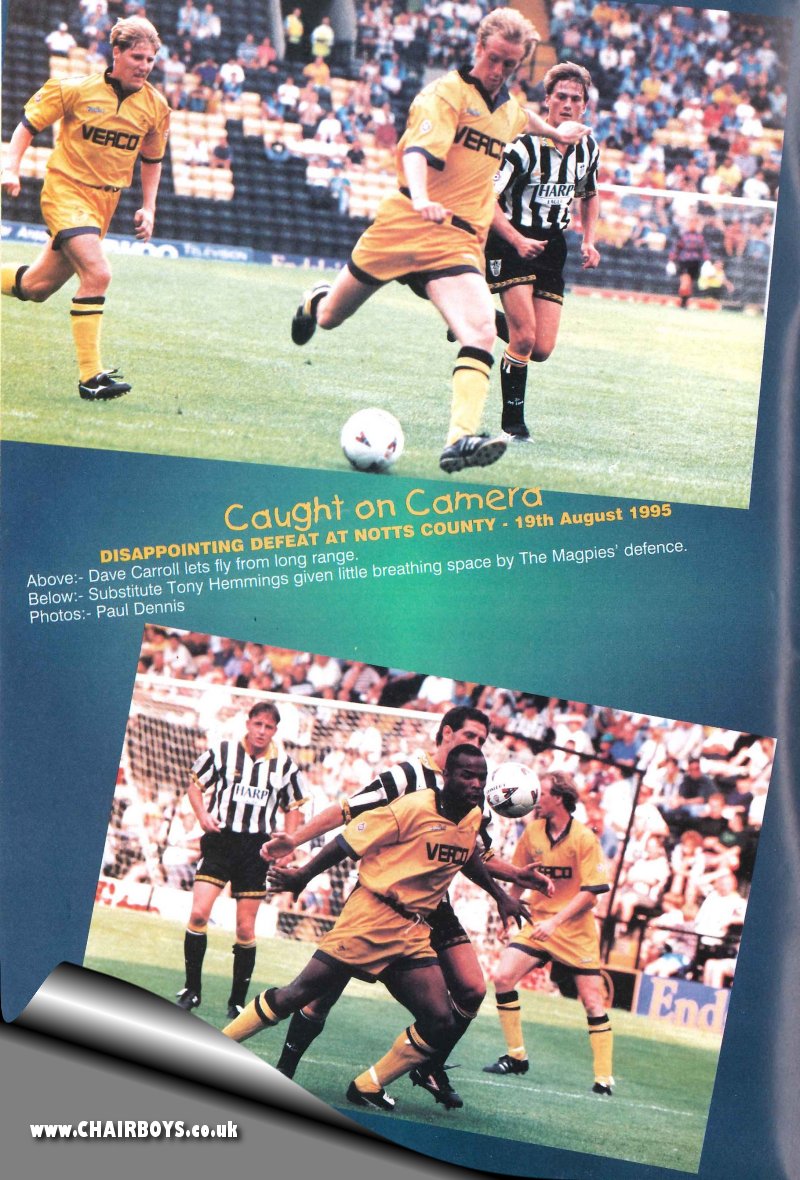 Foran could have been voluntarily removed from the fray with Terry Howard an able replacement on the substitutes bench. Smith dipped into his trio of outfield player substitutes after Foran's departure. The game had already slipped from Wycombe's grasp. New signing Brian McGorry, who replaced Jason Soloman for the last 20 minutes in midfield, hardly saw enough of the ball amid Wanderers' damage limitation exercise to make an impact.

[Alan] Smith pondered after last weekend's baptism of fire against Crewe that he had perhaps overloaded his players with information — that there will be teething problems in executing a new shape and ideas overnight. Perhaps it is a lot to digest when you're up against a tight unit like Notts County. But common sense seemed to fly out of the window as well at times on Saturday. Smith has reason for optimism, however, with Blues having only played two league fixtures. "It's early days yet. We are still settling in and there are positive signs," he said.

Blues' positives, though, got waylaid against a tough County side who are gunning for an eventual return to the Premiership for which their plush stadium is more suited. Wycombe held their own in fits and starts in the first half but it was more backs to the wall stuff towards the break. Mickey Bell forced a good save from County goalkeeper Darren Vard after 12 minutes and Miquel Desouza went just wide of the near post two minutes later. County were formidable on the break; however, with wingers Andy Legg and Paul Devlin making life uncomfortable for Blues full backs Jason Cousins and Paul Hardyman.

Paul Hyde, unlucky to have such a torrid time in the second half, repeatedly saved Wycombe's skin. The Blues goalkeeper's quick reflexes denied White on 18 minutes and he made point-blank saves from Graeme Hogg and White just before the break. Unfortunately for Wycombe, Ward was in good form at the other end, foiling Brown's diving header from a Dave Carroll cross on 47 minutes.

Bell's right-footed drive blazed narrowly over the bar on 55 minutes. Both chances could have provided the turning point. But that was effectively it in Blues' creative department. Legg's shot took a hefty deflection off Cousins' foot and looped over a helpless Hyde on 59 minutes. County had the bit between their teeth and Blues struggled just to withstand the bombardment.

Foran didn't help when he headed for an early shower after inexplicably getting entangled with Richard Walker in his own half while Blues were attacking. The second goal Wycombe conceded was as groanworthy as the first. Hyde's clearance was headed back by Phil Turner, with White managing to get enough of a touch to loop it over the Wycombe goalkeeper on 80 minutes.'


Wycombe: Hyde, Cousins, Hardyman, Crossley, Foran, Brown, Carroll, Bell (sub 66 Hemmings), Desouza, McGavin, (sub 74 Howard), Soloman (sub 66 McGorry)
Scorers: none
Bookings: Foran 34 (foul), Brown 43 (foul)
Sending-off: Foran 72 (second bookable offence)
Notts County: Ward, Mills, Walker, Turner, Strodder, Hogg, Devlin, Marsden, White, Agana (sub 75 McSwegan) - subs not used: Simpson, Jemson
Scorers: Legg 58, White 80
Bookings: none
Referee: Mr S Mathieson (Stockport)
Attendance: 5,552 (500 approx)

Speaking after the game Wanderers Manager Alan Smith said: "We weren't good enough today. Our first-half performance was reasonably acceptable, I won't say it was any more than that, but in the second half we did not compete enough. That's the thing I am not happy about. We have got to be able to compete week in, week out" He added: "The fans made a lot of noise today. They really got behind the team but we didn't respond anywhere near how we should have done." Commenting on the sending-off for loanee Mark Foran, Smith said: "That was a lack of discipline. It was a physical battle between him and Devon White."

Commenting on the signing of Brian McGorry, Smith said: "I think he is a good addition to the squad. During the season I will need to strengthen the side by bringing in players better than the ones I've got and to complement the players we've got. I am still convinced that we can get a further 30 per cent out of the existing players."

Wanderers would look to protect a 3-0 1st leg lead over Leyton Orient the following Tuesday in the Coca-Cola (League) Cup before hosting Bournemouth at Adams Park on the Saturday in the League.



Next game - Leyton Orient v Wycombe - League Cup 2nd Leg - Tuesday 22nd August 1995