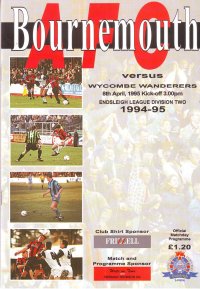 Bournemouth 2
Wycombe Wanderers 0
Saturday 8th April 1995
Football League Division Two
Following the midweek victory over Bradford City, Wycombe were closing in on the play-off places and with confidence restored, Martin O'Neill stuck with the same starting XI to take on a relegation threatened Bournemouth side. However, Wanderers saw their Division Two promotion dream take a huge blow following a highly controversial 2-0 defeat at Dean Court. Manager Martin O'Neill was sent to the stands for excessive complaints towards the officials following the award of a 28th penalty to the home side. O'Neill later admitted that the first penalty was the type of challenge that he'd seen given before. However, the second penalty on 54 minutes would have tipped O'Neill over the edge had he still been in the dugout. A post match incident between O'Neill and referee Paul Rejer also led to the Wycombe Manager being reported to the FA and the story making the front page of the following Tuesday's Bucks Free Press Midweek.

The match with The Cherries had originally been re-scheduled with a 12.30pm kick-off to avoid a clash with the Grand National but complaints from Wycombe and their supporters lead to the game reverting back to the usual 3pm start. The proposed earlier kick-off time had also prompted Wycombe to organise an pre-match overnight stay for the team and the plans weren't changed when it was switched back to 3pm.

Reporting for the Bucks Free Press from Dean Court, Claire Nash said: 'Controversial refereeing made this game harder for Wycombe to get to grips with than it should have been. Bournemouth, fighting to get out of Division Two's bottom five, were formidable opponents. Mel Machin's men were still smarting at the memory of Dave Carroll's last-gasp free kick which snatched a fortunate 1-1 draw at Adams Park at the end of last year.

But luck lent them a hand this time round. Wycombe took time to settle, having to contend with a considerable opening onslaught by the hosts. Jason Brissett was a livewire on Bournemouth's left wing and forwards Steve Jones and Steve Fletcher were handfuls for Terry Evans and Matt Crossley when chasing effective service from playmaker Scott Mean. But the main pressure was brought to bear by the hosts' airtight defence, wise to the threats of Wycombe's Steve McGavin and Tony Hemmings, again starting in favour of Simon Garner. Bournemouth weren't taking any prisoners either, with McGavin almost having his collar ripped clean off for his trouble at one point.

Blues went behind after starting to enjoy marginally more of the play. Brissett scythed past Jason Soloman on the left and then cut into the 18-yard box where he was felled by Jason Cousins on 28 minutes. It looked as if the young winger had been unfairly brought down, but he helped his cause with a drama queen dive. Mean sent Paul Hyde the wrong way with his spot-kick which was fired into the roof of the net. There followed the first of two touchline conversations between referee Paul Rejer and Blues boss Martin O'Neill, not convinced of an infringement. O'Neill was warned by the official.

Wycombe plugged away despite their disappointment, Terry Howard had a sterling game at left back and impressively dispossessed Jones when the striker threatened to prosper on the end of a high ball. Cousins was still having problems with Brissett, however, and was booked for a foul on the winger on 43 minutes.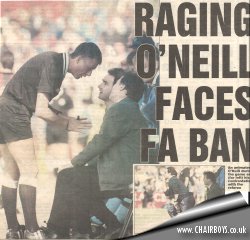 O'Neill was banished from the dugout just moments before the second contentious second penalty decision was made early in the second half. Cousins was fortunate not to follow his boss and be sent off for his second bookable. He flattened Fletcher as the striker pushed forward, but the referee played advantage as the ball had been fed wide to Brissett on 54 minutes. The winger raced on, but showed he was a graceless customer when he went down after losing the ball. He was under pressure from Crossley, but there was no foul.

The referee thought otherwise, however, and pointed to the spot. After Wycombe's protests subsided. Howard being booked for dissent, Mean sent Hyde the wrong way again. A double substitution, Garner and Cyrille Regis replacing Soloman and Cousins, gave Blues a new lease of life. Regis, back after being dropped for a few games, looked lively alongside McGavin. Hemmings and Garner played in a midfield role But Wycombe had too high a mountain to climb. Bournemouth defended stubbornly and would have increased their lead, had Evans not cleared Russell Beardsmore's header off the line and Hyde saved well from Jones.


Wycombe: Hyde, Cousins (sub 63 Garner), Crossley, Howard, Evans, Brown, Carroll, Bell, McGavin, Hemmings (sub 63 Regis), Soloman - sub not used: Moussaddik (GK)
Scorers: none
Bookings: Cousins 43 (foul), Howard 55 (dissent), Hemmings 85 (dissent)
Bournemouth: Andrews, Young, Beardsmore, Morris, Murray, Mean, Pennock, Robinson (sub 74 Holland), Jones, Fletcher, Brissett - subs not used: Towns, Moss (GK)
Scorers: Mean (28 pen, 54 pen)
Bookings: Young 42
Referee: Paul Rejer (Tipton)
Attendance: 5,816 (not 8,615 as reported by the media at the time)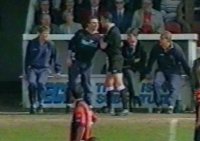 The clash between the Martin O'Neill and match referee Paul Rejer continued in the stadium corriders after the final whistle. Referee Paul Rejer said to the press: "He was making derogatory remarks. He refused to let me pass and laid his hands on my shoulders and chest. During the match he was making derogatory comments about me. I warned him, about his conduct but it continued. Having warned him once, I decided to remove him and have reported him to the FA." Meanwhile Martin O'Neill said: "I believe my full back when he said he never touched Brisset over the first decision and I can only describe the second incident as laughable." O'Neill added: "I felt the referee decided to take things into his own hands in the game."
Wycombe favourite Simon Garner leapt to his boss's defence, saying: "I know Martin gets worked up, but I think he had a right to on Saturday." Skipper Terry Evans and Dave Carroll condemned the second penalty decision. "That decision is easily the worst of any in the 350-odd league games I have been involved in," said Evans. Carroll said: "Whatever he gave the penalty for, I just don't know."

The defeat left Wanderers in 7th place in the Division Two table with six games left to play - including a home meeting with 5th placed Oxford United on Saturday 15th April 1995. But first they would have to take on mid-table Wrexham at Adams Park in another game re-arranged due to an earlier postponement.



Next game - Wycombe v Wrexham - Tuesday 11th April 1995