Hull City 0
Wycombe Wanderers 0
Saturday 1st April 1995
Football League Division Two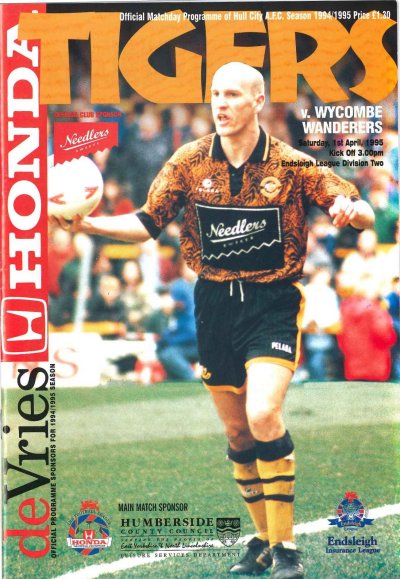 After breaking their goal drought the previous Tuesday at home to Peterborough United, Wanderers drew a goal blank again in the first ever trip to Boothferry Park to take on Hull City. Martin O'Neill had to settle for a point from a game that had few chances for either side. However, Wycombe could have snatched all three points when a late chance fell to Gary Patterson - the ball fell to Patterson at the left corner of the six yard box but his shot was slice wide into the side netting right in front of a dismayed travelling support.

The point meant that Wanderers sat in 8th place in the table - four points from a play-off position but with a game in hand over 5th placed Oxford United.

Reporting for the Bucks Free Press from Boothferry Park, Claire Nash said: 'Wycombe Wanderers and Hull City blunted each other's play-off aspirations in 90 minutes of unappetising fare at Boothferry Park on Saturday. Both sides' hunger to gobble a full serving of points went unsatisfied, with each anxious not to let the other feast at their expense. The result, though, did neither any favours, with all but two of the other teams in the Division Two promotion hunt snapping up wins and gaining more valuable ground that will be difficult to claw back.

Martin O'Neill's men did not manage a shot on target all afternoon. Hull were also locked out, putting in just one goalbound effort that failed to break the deadlock. The end product reflected the high stakes. Neither side gave an inch, and there were few chances or even half chances in a tense, scrappy contest played out in difficult gusty conditions.

The match was there for the taking once the play opened up eventually in the second half. Frustration was self-inflicted at the sharp end, however, when both teams spurned chances to steal a march on their play-off rivals. Gary Patterson hacked Wycombe's best chance into the side netting. Hull similarly didn't make the most of marginally more openings. But Blues goal keeper Paul Hyde became the hosts' main bane of the day when he saved Dean Windass's second-half header— the only time either of the men in goal was brought into active service.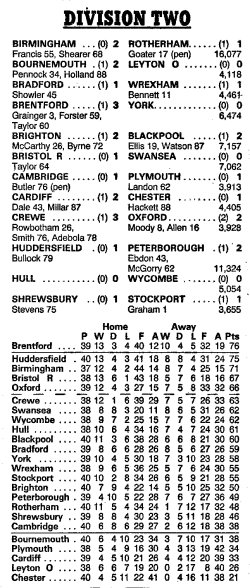 Hull had the better of a very forgettable first half. Both combatants found it difficult to play the ball convincingly on the floor. Amid the blow football, Wycombe, particularly, struggled to get a grip on procceedings and rarely troubled Hull's Republic of Ireland international goalkeeper Alan Fettis. They adapted better to the second half, no doubt after manager O'Neill pointed out the error of their ways. Wycombe's urgency forced Hull to concede a flurry of free kicks, but Blues failed to take advantage of them. Steve McGavin received a better quality of service up front.

But, with the game becoming watchable, Hull also enjoyed a promising break or two. Hyde, though, was as dependable a rock as ever when he reacted swiftly to Windass's header on the hour, diving down to his right to snuff out the danger. Wycombe won a free kick seven minutes later when David Mail was booked for a hefty challenge on McGavin. Terry Evans flicked on Matt Crossley's free kick to an unmarked Patterson on the left but the central midfielder took a wild swing at the ball which cannoned into the near-side netting.

Windass returned the compliment at the other end, the same conclusion being reached by his shot after racing past Evans. Tony Hemmings gave Blues late impetus which could have served them more fruitfully had he been on longer. The striker/winger caused Hull all sorts of problems after replacing Simon Garner on 78 minutes. His surge from midfield and refreshingly intelligent pull back for Dave Carroll resulted in McGavin's shot from the latter's right-wing cross being cleared off the line by Simon Dakin. It won Blues' first corner of the game and Hemmings forced their second moments later. Carroll's snapshot went wide after Evans's good work on 83 minutes. That was effectively that for Blues, with Hull making them concentrate on matters at the other end.

Windass wasted being found in space on the right when he ran on and shot high from long range while Craig Lawford was unmarked on the far post in the final minute. The danger didn't pass. Hyde's heart was in his mouth after failing to get the ball firmily in his hands after Windass put in a testing cross. Then the final whistle blew, which was a relief. Hopefully, the next serving of Division Two fare, against Bradford City at Adams Park on Tuesday, will he more tasty.'

Wycombe: Hyde, Skiverton, Crossley, Howard, Evans, Brown, Carroll, Bell, McGavin, Garner (sub 78 Hemmings), Patterson.- subs not used: Thompson, Moussaddik (GK)
Scorers: none
Bookings: none
Hull: Fettis, Lee (sub 57 Peacock), Graham, Hobson, Dakin, Mail, Mann, Abbott, Lund, Windass, Lowthorpe (sub 78 Lawford) - sub not used: Wilson (GK)
Scorers: none
Bookings: Dakin 52 (foul), Mail 67 (foul)
Referee: T Heilbron
Attendance: 5,054

Speaking after the game, Martin O'Neill said:"Normally, this would have been regarded as an impressive hard-earned point against formidable opponents, but these are not normal circumstances."

Meanwhile, Wanderers 'keeper Paul Hyde added: "It was a poor game between two teams who looked under pressure. We can do a lot better than this."

Wanderers next game would be at home to Bradford City the following Tuesday. In preperation for the game, Martin O'Neill arranged a behind-closed-doors friendly against Premier League Chelsea. The meeting took place on the afternoon of Monday 3rd April at Chelsea's Training Ground and also provided the opponents with a warm-up for their UEFA Cup Semi-Final 1st Leg tie at Real Zaragoza. Wycombe ran out 1-0 winners, with loanee Peter Garland scoring the only goal of the game.



Next game - Wycombe v Bradford City - Tuesday 4th April 1995