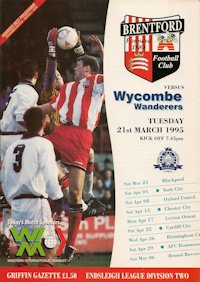 Brentford 0
Wycombe Wanderers 0
Tuesday 21st March 1995
Football League Division Two

A battling performance from the Wanderers was not enough to end the goal drought for Martin O'Neill's side as they drew 0-0 at in form Brentford at Griffin Park. The match attracted the attention of London regional TV coverage - with Carlton TV showing a 20 highlight package the same evening with Wanderers' Director Alan Parry in the commentary box.

The match saw the Wycombe debut of new signing Steve McGavin following his £140,000 move from Birmingham City had been agreed the previous day. It was the ex-Colchester player who went cloest for Wycombe when his diving header struck the upright shortly before the half-time interval.

McGavin's fee had originally been set at £125,000, with a further £50,000 linked to appearances. But Wanderers and City settled on a flat £140,000 figure, more than three times Wanderers' previous record transfer fee. Speaking of the deal, O'Neill said: "McGavin's a good player. I do not want people to expect miracles, but he should do well."

The 0-0 draw at Griffin Park kept Wanderers in 11th place in the Division Two table on 57 points but still only 2 points off the play-off places with 11 games to play. Brentford, who Wycombe beat 4-3 at Adams Park earlier in the 1994/95 campaign, dropped to second place, with Huddersfield Town (a team Wanderers had completed the double over) taking over at the top.

Reporting for the Bucks Free Press from Griffin Park, Claire Nash said: 'Wycombe Wanderers came away from Tuesday's battle at Brentford with renewed confidence after putting up their most impressive Division Two performance for some time. A draw stopped the rot after two consecutive defeats. They couldn't end a goal drought which has lasted for three matches. But it was the way they took it to formidable opponents, who were top of the table before the game, and their commendable refusal to bow to Brentford's pressure which gave the soundest basis for optimism. Only time will tell, though, if Blues can effectively channel what they got out of it.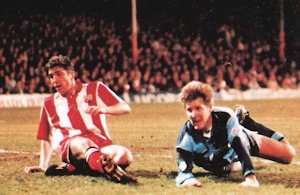 A point was fair enough, although Wycombe's debutant striker Steve McGavin went close to swiping the three-point booty from under Brentford's nose when his 41st-minute header hit the near post. Wycombe impressively fended off Brentford's flowing attacks and encouragingly posed problems of their own when going forward in an entertaining first half. The only disappointment for the 9,530 crowd at Griffin Park, the second largest there this season, was that the game didn't continue in the same vein after the break.

But Wycombe's spirit and committment was recognised by some 2,000 fans in Blues' largest away attendance of the term. Matt Crossley, who came back into the fold after failing to win back his place following a two- match suspension, typified the spirit in which Wycombe went about their business. Dave Carroll also had his best game for some time on Wycombe's right wing and also shored up Blues' defence when required.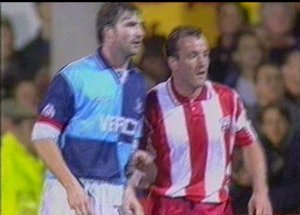 Wycombe started to show more of an assertive grip going the other way when Brentford skipper Jamie Bates was booked' for upending Garner when the latter was sent on his way by a McGavin flick on after 18 minutes. Paul Hyde stopped Blues from going behind when he pulled off a magnificent reflex save from Robert Taylor's close-range header on 35 minutes.

But Wycombe hit back, McGavin's header after Garner flicked on Bell's cross beat Kevin Dearden, but hit the near post. It was their best chance of the game. But fortune almost smiled on them in the second half when Garner's flick on to Peter Garland in the 18-yard box was heading for goal after rebounding off Brentford defender Barry Ashby's shins. Dearden was beaten again, but Martin Grainger cleared off the line.

The sides cancelled each other out as the game went on. Brentford enjoyed more attacking possession, but Wycombe's defending forced them to try their luck from far out.'


Wycombe: Hyde, Cousins, Crossley, Howard, Evans, Garland (sub 86 Brown), Carroll, Bell, McGavin, Garner, Soloman (sub 81 Read) - sub not used: Moussaddik (GK)
Scorers: none
Bookings: Crossley 23 (foul)
Brentford: Dearden, Hutchings, Grainger, Ashby, Bates, Statham, Smith, Forster, Taylor, Stephenson, Mundee (sub 73 Abrahams) - subs not used: Westley, Fernandes (GK)
Scorers: none
Bookings: Bates 18 (foul), Statham 50 (foul)
Referee: K Leach (Wolverhampton)
Attendance: 9,530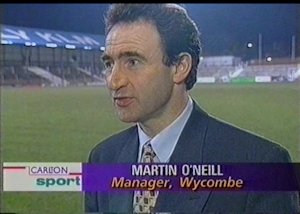 Speaking after the game, Martin O'Neill was still confident his side could reach the promotion spots, saying: "We still haven't broken our duck. But the draw was a good result for us. We've really got to make our next two home games count. We'll be trying damned hard to get six points, then we'll be right back in it." The Wycombe Manager believed having seven out of their remaining 11 games at home was a plus, adding: "We'll be looking at about 22 points from 11 games. It's a tall order but it's possible."

Elsewhere, O'Neill had moved to sign former Manchester United striker Danny Wallace on a free from Birmingham City. The 31 year old was signed on a three month deal after his career had come to a halt playing in the reserves at St Andrews. Terry Skiverton's loan from Chelsea had been extended by a further month.

Moving in the other direction, striker Tim Langford had gone on a month's loan to Conference side Kidderminster Harriers. Lee Turnbull had also been loaned to Division Three side Scunthorpe United.



Next game - Wycombe v Crewe - Saturday 25th March 1995