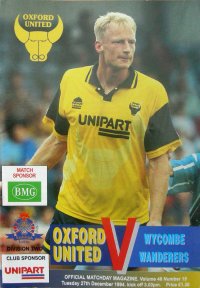 Oxford United 0
Wycombe Wanderers 2
Tuesday 27th December 1994
Football League Division Two
Wanderers gatecrashed the Oxford United Christmas party on their first ever League meeting at The Manor Ground. Goals from Keith Ryan and Simon Garner saw a 'smash and grab' raid completed on the Division Two leaders who had not lost at home in the League for 20 matches before the visit of Martin O'Neill's troops.

Backed by a 2,500 plus away following on United's heavily fenced away end, Wanderers were looking to finish the year on a high having played out a 0-0 draw at home to Brighton the previous day. The holiday programme then had scheduled games for Wanderers at home to Bournemouth on New Years Eve, before a trip to Chester City on 2nd January 1995.

Reporting for the Bucks Free Press from The Manor Ground, Claire Nash wrote: 'Wycombe Wanderers executed a tactical coup with military precision over top-of- the-table rivals Oxford United on Holiday Tuesday. It was a sweetly satisfying victory for Blues at the Manor Ground stealing the show in the derby everyone was salivating about from the moment they earned promotion last season.

Blues beat the Division Two leaders in much the same manner with which they defeated Birmingham City earlier this term. They soaked up the hosts' early bombardment, hit them on the break, protected their lead with staunch defending, increased their advantage against the run of play and then shut up shop with a seven-man back line.

Wycombe had only two shots on target and scored from both of them. It was as much their getting bodies back to soak up Oxford's pressure, in addition to goals from Keith Ryan and Simon Garner, that clinched the game.

Oxford dominated the first half hour, but Blues were always alert on the break. Midfielder Jimmy Carter, the hosts' new on-loan signing from Arsenal, and former Sunderland striker John Byrne tried to unhinge Blues' game plan. But Wycombe's defence stuck rigidly to their task.


Matt Crossley made a vital clearance when the ball was pin-balling dangerously around the box on the quarter hour. Skipper Terry Evans interrupted Alex Dyer's threatening cross to Byrne five minutes later. Hyde assuredly dealt with Oxford's first shot on target when David Rush struck a firm shot from Dave Smith's cross. Carter followed up with a looping effort from long range which went narrowly over the cross bar. Blues looked comfortable in handling the bombardment and made Oxford pay for failing to break them down.

Good work by Regis and Garner on the half hour unleashed Mickey Bell, returning from a three-match suspension, on the left flank. The winger duly released a first-time cross which Ryan met at the near post — the midfielder sliding in with his Oxford marker in tow to give the vital last touch which squeezed the ball diagonally back across goal, wrongfooting goalkeeper Phil Whitehead on the way. Oxford started fraying before the break, but it was only a hint of the wretchedness that was to come. As expected, they continued to press in search of an equaliser, but lacked an incisive final ball and were ultimately forced to throw anything they could from long range.

Wycombe scored again just as Oxford were trying to tune into a groove. A free kick was given after a challenge on Garner after 57 minutes. The striker drilled the ball straight through Oxford's wall and inside the near post from Dave Carroll's lay-off for his tenth goal of the season. The players and Blues' fans not surprisingly celebrated with uncontained delirium, while manager Martin O'Neill simply summed it up with a thumbs up sign from the dug-out and mouthed 'brilliant' to the free signing who continues to pay handsome dividends.

Oxford responded by sending on leading scorer Paul Moody, whose recent loss of form had relegated him to the bench. He failed to give Oxford's toothless attack any bite. They had most of the possession for the last half hour, as they did the first, but Wanderers' harrying simply exhausted their ways and means of getting back into the match.

Oxford, who were enjoying life in the top flight little more than seven years ago, remain at the top of the division, but their lead is a precarious one. If Wycombe continue to play in the determined fashion with which they swiped the booty from under their rivals' nose, then it's only a matter of time before they knock the former League Cup winners off their perch.

Wanderers have now beaten all the highly-fancied promotion contenders away from home — under lining that they are not merely on a look-see mission this term. Their stupendous progress confounds, still, their own fans. But the test now is how they handle the weight of expectation which accompanies a yardstick of success which keeps growing out of all recognition.
Wycombe: Hyde, Cousins, Brown, Crossley, Evans, Ryan, Carroll, Bell, Regis (sub 56 Patterson), Garner (sub 80 Thompson), Stapleton. - sub not used: Moussaddik
Scorers: Ryan 30, Garner 57
Bookings: Crossley43 (dissent)
Oxford United: Whitehead, Robinson, Lewis, Dyer, Elliott, Dobson, Carter (sub 75 Rogan), Smith, Rush, Byrne, Ford (sub 59 Moody) - sub not used: Deegan
Scorers: none
Bookings: Robinson 37 (foul), Byrne 81 (dissent)
Referee: Mr Keith Cooper (Swindon)
Attendance: 9,540 (2,600 away)

Speaking after the game, Wanderers' Manager Martin O'Neill said: "It is a fantastic result. It was the players' spirit which carried us through today."

The Wycombe players were also delighted with the result. Skipper Terry Evans, who signed for Wycombe after spurning Oxford's advances the previous season, summed up how much the victory meant. "I turned them down. Something like this makes it worthwhile. It's a superb win. When we won at Blackpool, that was great. Beating Huddersfield was even better, but with this, wonders will never cease. It was hard work. The lads have exhausted their reserves." Goalkeeper Paul Hyde added: "The commitment we showed was brilliant. You would have thought we had won the FA Cup Final going by the atmosphere in the dressing room after the match." Meanwhile Mickey Bell commented: "We knew we were going to have to defend for long periods. But they were passing the ball around and doing nothing."

In contrast United Manager Denis Smith said: "I was a bit disappointed with our defending on a couple of aspects for Wycombe's first goal. Simon Garner's a very experienced player and used that experience to get the free-kick and then struck it very well." Despite the defeat, United remained at the top of the division but only led Birmingham City on goal difference, with Wycombe now in the 3rd, just two points behind. Smith added: "I am not going to commit suicide over it. We had most of the game. But Wycombe set their stall out. As soon as they scored their first, they sat back and soaked up the pressure. They came for a goalless draw and got a bonus."

Martin O'Neill also went on to remind people where Wycombe were at the same time the previous year. "We started off on January 1 [1994] getting thrashed 4-2 at Walsall. It was one of those losses where you ask yourself where do we go from here. We had to pull our socks up and eventually went on to earn promotion."

Next game - Wycombe v Bournemouth - Saturday 31st December 1994