Peterborough United 1
Wycombe Wanderers 3
Saturday 22nd October 1994
Football League Division Two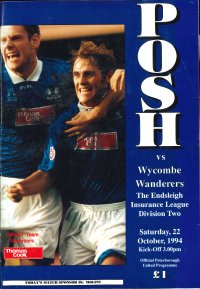 Wanderers recorded a third victory in four games as they beat Peterborough United 3-1 in the first ever League meeting between the two sides.

The only previous encounters had been FA Cup ties in 1973 and 1990 where Wycombe had been very much the underdogs. On this occasion it was on a level playing field and goals from Cyrille Regis, Simon Garner and Steve Thompson saw Martin O'Neill' side ease home after conceding an early goal.

Team news had seen O'Neill make one change from the side that had drawn at Plymouth Argyle the previous Saturday – new signing Mickey Bell came in to play on the left, with Simon Stapleton moving back into defence to cover for the injured Matt Crossely.

The result left Wycombe sitting in 3rd place in the Division Two table with 26 points from their opening 13 games. Leaders Huddersfield Town were two points ahead and Oxford United 2nd on 27 points.

Reporting for the Bucks Free Press from London Road, Claire Nash wrote:

'Wycombe Wanderers marched emphatically to within two points of the top of Division Two with a faultless second-half performance at Peterborough on Saturday.

New signing Mickey Bell's confident display clicked in perfectly with an assured response to Peterborough's opening onslaught. Once Wanderers forged ahead, however, the Posh just capitulated. Blues' leading scorer Cyrille Regis netted his eighth goal of the season with perfect timing to equalise moments before the break. From that point Wycombe were merciless and wiped the floor with their opponents.

Further goals by Simon Garner, with a solo effort on 53 minutes, and Steve Thompson, who finished off a well-worked set piece with a slick flicked header seven minutes later, wrapped the game up. Wycombe could have scored a hatful more if not for acrobatic goalkeeping by Peterborough's Mark Prudoe.

The platform for a superlative exhibition after the interval was laid by a battling holding operation after Peterborough struck the first blow. Skipper Terry Evans was typical of Blues' commitment. His presence was in doubt up to 45 minutes before kick off after aggravating a groin strain in training on Friday. Evans, described by team-mates as having a heart as big as a bin lid, was a rock in central defence alongside Jason Cousins. The latter moved from right back to fill in for Matt Crossley who had not recovered from a thigh injury suffered in last weekend's 2-2 draw at Plymouth. Simon Stapleton slotted in neatly in the latter's full back role, while Steve Brown admirably marshalled and attacked from the left flank.

In addition to the Posh's physical threat, a tricky sodden pitch and referee Uriah Rennie's whistle happy tendencies undermined efforts to settle. Peterborough gained the upper hand, courtesy of Liburd Henry's fourth-minute opener, the right winger taking advantage of Wycombe's failure to clear David Morrison's cross and Brian McGarry's lay-off before smashing home from ten yards.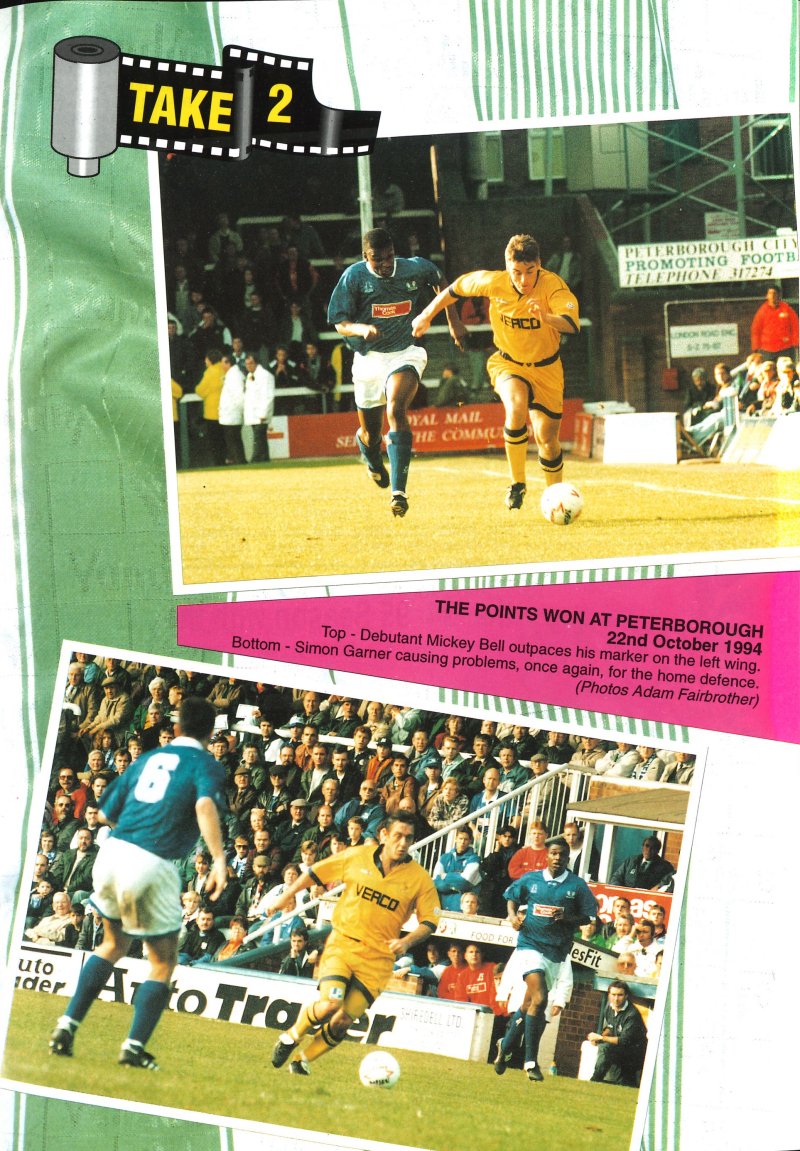 Henry, together with Morrison, his partner in pace on the right flank, and Peterborough's dangerman striker Ken Charlery, continued to cause problems. But Wanderers bided their time and gradually flexed their chance carving muscles. Bell provided Garner with ammunition to fire his opening salvo on 16 minutes, but the striker struck his shot directly at Prudoe.

Bell tested the keeper himself with a well-drilled free kick from 25 yards five minutes later. Then Stapleton's shot skimmed the crossbar after racing through to receive Dave Carroll's centre on 20 minutes. Evans went close, clipping the post with a header from Thompson's cross on 29 minutes. Prudoe's reflexes denied Regis a certain goal when he tipped the striker's shot onto the post and away four minutes later.

Peterborough were encouraged momentarily, then Wanderers equalised. Evans caused consternation in the Posh defence when he leapt to head Cousins' free kick and the ball dropped in a bread-and-butter zone for Regis to wallop home from close range on the stroke of half time.

Wanderers were firing on all cylinders after the break and never relinquished a vice like grip on proceedings. Garner and Regis were tuned into a crystal clear frequency up front, feeding off each other's service with almost every attack. Garner put Blues ahead with a powerful tour-de-force. He latched onto Keith Ryan's pass from midfield, shrugged off a challenge by Posh centre half Steve Welsh before pulling the ball wide to make sure Prudoe couldn't get anywhere near it this time.

Bell encouragingly continued his first-half form on the wing. But Wycombe's third goal came from a set piece - a free kick given for Ebdon's hefty challenge on Regis 30 yards out. Peterborough's defensive wall was by-passed·by Carroll stroking the ball wide to Stapleton on the right. The latter whipped the ball in for Thompson to flick a deadly high header home.

The hosts squandered opportunities to respond, McGorry going woefully high and wide with a free shot on 65 minutes. Garner was unlucky to have a shot go narrowly over after beating two defenders on 66 minutes. But Wycombe continued to work the ball around well, every touch being cheered by their 800 or so supporters and Hyde was rarely troubled again, thanks to Blues' stern defending.'


Wycombe: Hyde, Cousins, Brown, Stapleton, Evans, Ryan, Carroll, Bell, Regis, Garner, Thompson - subs not used: Langford, Creaser, Moussaddik (GK)
Scorers: Regis 44, Garner 53, Thompson 60
Bookings: Brown 22 (dissent), Evans 76 (foul)
Peterborough: Prudoe, Ashley, Clark, Ebdon, Breen, Walsh, Morrison (sub 73 Williams), McGarry, Farrell, Charlery, Henry - subs not used: Heald, Tyler (GK)
Scorers: Henry 4
Bookings: McGorry 8 (foul), Charlery 21 (foul), Ebdon 45 (foul)
Referee: Uriah Rennie
Attendance: 5,924

Speaking to the press after the game, Martin O'Neill said: "That is as convincing performance as we have put on all season. We got off to a sluggish start but I thought we were really terrific after that. We created umpteen chances and put some of them away."

O'Neill added "We have to acclimatise to this season as we had to acclimatise last season. I never get carried away with our position. We have taken ten points out of 12 points in our last four games. I think we can stick it out now in matches, that is our strength. We had a fair amount of possession at Plymouth. This time [against Peterborough] we had even more."

Commenting on new signing Mickey Bell, he added: "I think everyone was pleased with him. I thought he did very well. I said to him afterwards that he may not perform as well for some time. But he has set his own standards and I hope he sticks to them."

The fee for Bell from Northampton would be set later at a tribunal. Northampton had set a price of £125,000. The fee would eventually be set as £35,000 plus a further £10,000 at 20 appearances and another £10,000 at 40 outings in a Wycombe shirt.



Next game - Wycombe v York City - Saturday 29th October 1994