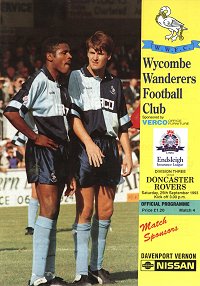 Doncaster Rovers travelled to Adams Park on Saturday 25th September 1993 in what would turn out to a pivotal day in the career of Jason Cousins. The 22 year old defender had received sympathy the previous week for a red-card following a deliberate handball. However, this time the red mist had come down and with the game goalless and two minutes remaining before the break, Cousins launched into a two footed assault on Doncaster's David Moss. Thankfully Moss was not injured but Cousins was soon heading down the tunnel after referee Mike Pierce produced a yellow card to add to a yellow shown just five minutes earlier for a foul on Mike Jeffrey.
Martin O'Neill was furious with Cousins and later admitted he had thrown the player out of the dressing room. However, before then Wanderers dug in to produce an a gritty display that would see a 1-0 triumph thanks to a 49th minute goal from Tim Langford.
O'Neill was quick to come out and condemn Cousins in the post match interviews, saying "At the moment he will be suspended for a week and fined a week's wages. It has not wrecked his career at Wycombe. I think everybody is entitled to a second chance. But what he did is something we won't stand for. It was not in the spirit of this football club. It was incomprehensible especially after last week, and that is the whole point"
It was without Cousins that Wanderers continued their fine start to the season with a 3-2 victory at Chesterfield on Saturday 2nd October 1993. Keith Scott had put Wanderers ahead in the 11th minute with a header but Paul Hyde was fortunate not to become the third Wycombe player in as many weeks to see red when he handled outside of the penalty area on 35 minutes. Fortunately referee Alan Dawson only produced a yellow card.
Wanderers went 2-0 up on 50 minutes when Scott nodded in a Keith Ryan cross. However, the home side pulled a goal back three minutes later when Andy Morris converted a Steve Norris lay-off. Wanderers then confirmed their superiority when Terry Evans, playing his first game as skipper, headed in at the second attempt from Dave Carroll's corner. A last minute penalty from Lee Turnbull couldn't prevent Wycombe taking all three points and retaining their unbeaten away record in Division Three.
After the game O'Neill expressed his desire to sign Evans on a permanent basis. O'Neill said "As long as Evans is at the Club he will be captain. I think he is in the Creaser mould." A initial fee of £20,000 was eventually agreed with Brentford with clauses that would take the price up to a total of £40,000 if he played 70 games within two and a half years. O'Neill added "Considering his pedigree I think the fee is very favourable. If he plays those 70 games within two and half years, he will have done very well for us."

Unsurprisingly the comments regarding Jason Cousins' tackle during the Doncaster game raged on for a number of days. Once again it was Martin O'Neill who put perspective on the situation as he wrote in his programme notes for the 2nd Leg Coca-Cola Cup tie against Coventry City at Adams Park on 5th October. The Wycombe gaffer said "Our victory over Doncaster Rover was over-shadowed by the dismissal of Jason Cousins for the second successive week. I felt that his sending-off against Colchester for hand ball was harsh and said so at the time. However his challenge on Moss, the number 11 for Rovers was sickeningly brutal and deserved the red card in itself. The tackle was needless and completely incomprehensible. I take lan St. John's view that Jason was very lucky not to find himself in the law courts but I don't think I should need St. John's advice on how to deal with the situation. There were a lot of fair-minded Wycombe people incensed by Jason's actions, feeling that he had let the Club down very badly. Indeed they were absolutely right. The girls in our office told me that a few supporters came in after the match to say that they wouldn't be watching us any more because of that challenge. I cannot prevent any one from taking whatever action they see fit, but I can, as Manager of this Football Club, tell you that I will not tolerate such behaviour from my players and that if Jason does it again he won't need to be told to leave the Club. He has been fined and suspended and the captaincy will be taken away from him. The biggest piece of luck that he himself received was that Moss walked away from the incident unscathed. But when judgment is passed on him please take last February's game with Bromsgrove Rovers in the F.A. Trophy into consideration. Jason Cousins was stretchered off unconscious when, while still lying on the ground, he put his head in front of an opponent's boot to prevent a goal being scored. We eventually triumphed 2-0 in that game and went on to enjoy another memorable day out at Wembley. Jason Cousins lay unconscious for over four hours in Wycombe General Hospital for the cause of this Football Club. It was that sort of never-say-die attitude which endeared him to us and almost won him the Supporters' Player of the Year award. He will no doubt have to live with his actions for quite some time. Perhaps you are still not in the forgiving mood but Jason Cousins will get one more chance by this Manager to prove himself all over again. I hope he, for his family's sake, succeeds."


Click here to read more - So close to dumping out Coventry



1993-1994 index