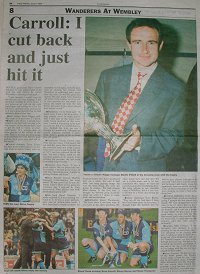 A Bucks Free Special supplement was issued to celebrate the Play-off Final victory against Preston North Endand included quotes from most of the Wanderers team. Double goalscorer Dave Carroll admitted he was unsure what to do with the ball before he netted Wycombe's amazing fourth goal, commenting "I just thought I would carry on the run and see what happens. I did not know whether to shoot or not. I saw someone go wide on my right and Gupps was calling for it on my left, but I cut back inside and just hit it. It was a great thought that we had definitely done it after that."
Steve Guppy said: "We went in at half time 2-1 down. We didn't feel down. I should have scoring in the first half; but that's the way it goes. In the second half I had to get the ball to Garns at every opportunity. It's unbelievable to have players of his calibre at the club. There's no way we were going to do anything but win. Dave's goal and the third goal were just out of this world."
Nicky Reid said: "In some ways I feel a bit of a swizz. I only played seven or eight games. Still I feel part of the team, especially being involved in this occasion. I knew it was going to be frantic early on, but if we settled down to play football the way we can I thought we would win. I thought we played fabulous football. I don't think there's going to be a better play-off game."
Goalscorer Simon Garner said: "The last two times I won here I did not start the game. But to be on from the start this time and score a goal, what more can you ask for at the age of 34? I am very pleased for all the lads. We had a sticky patch for the last three games of the season. Considering the pressure, the lads have responded magnificently."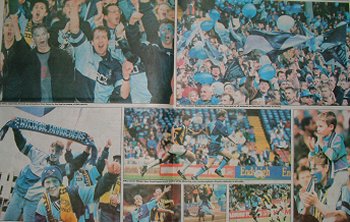 David Titterton: "I really enjoyed it. I was looking forward to it. It was a great performance and an unbelievable result. I have been here a couple of times, for England youth, but I have not played here for a while. We said at half time, just keep playing things the way we were doing. We were not going to change. We had chance after chance in the first half. I thought we showed great character when we were 2-1 down to come back, and we did them."
Steve Thompson: "We have done it the hard way. If you look at the other positions, the other teams have not had this. We are a stylish team, and to be fair, sometimes this season we have let ourselves down by not showing that. We have played to our strengths today at Wembley, but it is less easy to do that on a frosty day during the season."
Keith Ryan: "I thought I had good start and kept going. I thought the lads played brilliantly. We were disappointed at half time, to be 2-1 down. But we knew even then that we had played the better football, and it was just a matter of time before we got a goal. It was great timing to score both the first and second goals when we did. Once we went level, I could only see one winner, and the lads played brilliantly."
Captain Glyn Creaser: "I'm obviously very pleased. It is as pleasing for me as everybody else I was delighted to be playing back here. Looking at what we have done, to get out of the Conference and into the Football League, we have come through the hard way. We had to dig in and do the business, and I think, at the end, of the day, a lot of people will be happy with the way we have played football today."
Jason Cousins: "It was not one of my better games, but Preston always make it hard for you. I just dug in and battled away. I thought Steve Thompson was the business. He was superb. Dave Carroll has probabIy scored the best goal ever scored at Wembley, but there was a team full of heroes out there today."

Also see:
Wycombe v Preston - match report and stats - Wembley May 1994
What the papers said (local) - Wembley May 1994



1993-1994 index