Carlisle United 0
Wycombe Wanderers 2
Sunday 15th May 1994
Football League Division Three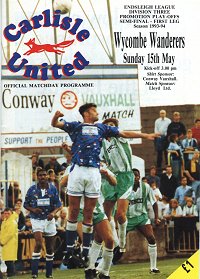 The trip to Carlisle United on Sunday 15th May 1994 would see a return for Wycombe to the place where their Football League adventure had begun nine months previous with a 2-2 draw. The revist to Brunton Park was looked upon with trepidation by many in the Wycombe camp. United had reached the play-offs with a late burst up the table and were the form side. However, those fears where dimished as Wycombe took control of the game when Steve Thompson knocked the ball home in the 33rd minute after Simon Garner's shot rebounded out. Garner was involved in two more more chances before the break while Rod Thomas went closest to levelling the scores for the hosts.
United came on stronger in the second period but frustration boiled over onto the home terraces with a 'domestic punch-up'. More chances went begging for Carlisle before Garner wrapped the game up with four minutes remaining - the veteran smashing home at the near post after Thompson had fed the ball down the left channel from midfield.
It proved too much for some of the home crowd who spilled onto the pitch and halted play. Referee Brian Hill eventually resumed play but blew for full-time before stoppage time had been completed.
Wanderers could now look forward to the 2nd leg at Adams Park the following Wednesday, with a two goal cushion as they aimed to reach Wembley for the third time in as many years. The other semi-final also saw Torquay take a 2-0 lead to the second leg on to the Deepdale plastic.

Wycombe: Hyde, Cousins, Titterton, Crossley, Creaser, Ryan, Carroll, Thompson, Reid, Garner, Guppy - subs unused: Brown, Hemmings, Moussaddik
Scorers: Thompson 33, Garner 86
Bookings: none
Carlisle: Caig, Joyce, Gallimore, Walling, Reddish, Robinson, Thomas, Rouse (sub 72 Burgess 72) Reeves, Davey, Arnold - subs unused: Murray, Elliott (GK)
Scorers: none
Bookings: Joyce 68 (foul)
Referee: Mr B Hill
Attendance: 10,862
What the papers said: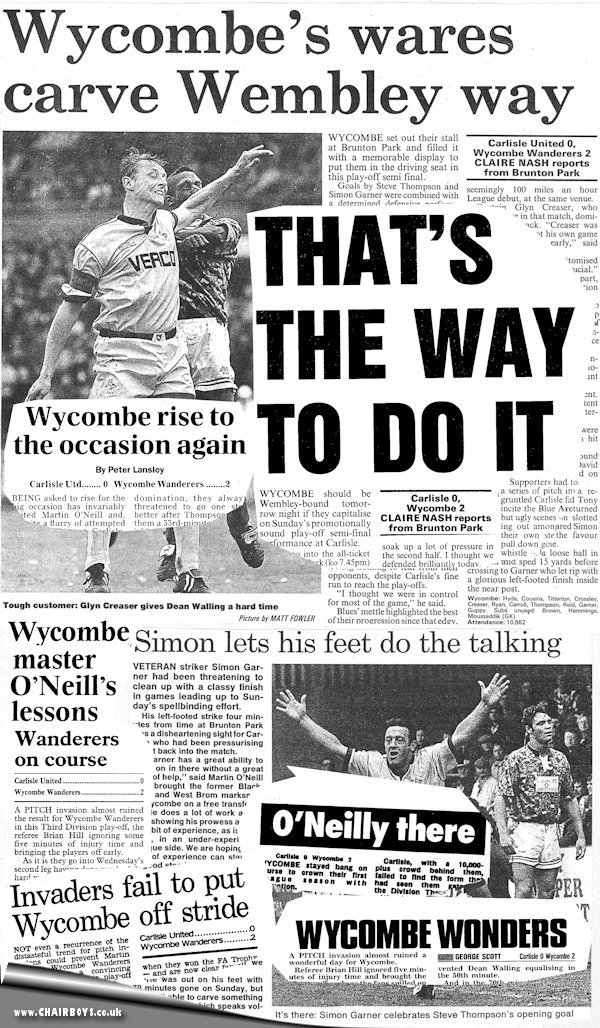 Bucks Free Press - Claire Nash reporting from Brunton Park:
Wycombe should be Wembley-bound tomorrow night if they capitalise on Sunday's promotionally sound play-off semi-final performance at Carlisle. Blues go into the all-ticket tie at Adams Park (ko 7.45pm) with a two-goal cushion courtesy of Steve Thompson and Simon Garner, and a solid defensive performance.
But the champagne has been put well and truly on hold. Four bottles were taken into the Wycombe dressing room at Brunton Park, but they were kept firmly corked. The players, although pleased with a superb result, similarly kept a lid on their Wembley aspirations.
"What we have done is given ourselves a chance of getting to Wembley," said manager Martin O'Neill. "We went up there and took on the current form side in the league. To come away with a 2-0 win stands us in good stead." He added: "There is no talk of Wembley. Carlisle are a very capable side. They are capable of getting the goals back." O'Neill said the pressure on Carlisle — the populace having been whipped into a Wembley fervour after they barnstormed into the playoffs on the back of four straight wins — may have been in Blues' favour. "They have come into the play-offs with a glorious run at the end. For the first time in quite a few weeks, I felt we were the underdogs up there."
Stalwart full back Jason Cousins said: "We are delighted with the result. We had to soak up a lot of pressure in the second half. I thought we defended brilliantly today. I thought Glyn Creaser was outstanding, as was Matty (Crossley), and David Titterton." Keith Ryan underlined the Wycombe manager's comments, "It's only half time. We've got to build on our two- nil lead. We can't afford to defend for 90 minutes." The central midfielder believed Wycombe effectively negated the Cumbrians' threat from the off. "I thought we were really in control for most of the game."
The shackles were indeed on the other foot at Brunton Park. Wanderers, seemingly untethered by the excruciating pressure of recent weeks, did their utmost to wreck Carlisle's ambitions in front of an expectant, at times part of it was moronically yobbish, home crowd. Blues, disappointed at not going up automatically following a stuttery end-of-season run-in, went into a daunting game at their far-flung destination carrying tIle hopes, rather than the demands, of their supporters.
A draw would have sufficed. To go home with a two-goal cushion was an admirable achievement and a welcome boost for the intrepid hundreds who circumnavigated a 600-mile haul. Supporters had to contend with a series of pitch invasions by disgruntled Carlisle fans. Attempts to incite the Blue Army were quelled but ugly scenes — punch-ups breaking out among Carlisle fans and their own stewards, attempts to pull down goalposts after the final whistle — left a sour taste in the mouth. The match result, however, was pure sweetness for Wycombe.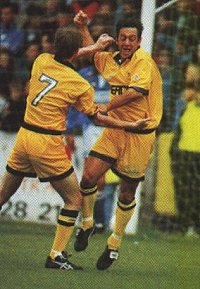 Steve Thompson, their last part-timer who packs in his job as an RAF physical training instructor at the end of this month, set Blues on their way after a cagey opening by both sides. Carlisle tried to persevere with a passing game. But Wycombe, with Nicky Reid joining Ryan in midfield, and Thompson floating up front and behind marksman Garner, interrupted the flow. If anything got through, in the air, or on the ground, Wycombe's defenders were invariably first to the ball. Carlisle's wayward passing let them down when they did threaten.
Blues eased their way patiently into the match and hit their opponents on the break. One such move up-field, featuring Ryan and Dave Carroll led to Wycombe's opener on 33 minutes. Ryan fed Guppy wide on the left, the winger laying on the ball for David Titterton on the overlap. The left back smacked the ball low into the box where Garner created havoc with his shot. Thompson picked up the rebound and deftly slotted home.
Garner, who had a bruising battle throughout with Carlisle's central defender Dean Walling, was involved in two further chances before the break: a searing cross in front of goal, but no one was there, and a header to Carroll in the box, which was cut out. Blues keeper Paul Hyde had rarely been troubled up to this point. But Carlisle did exhibit evidence of the passing game which snatched a play-off place, with former Watford player Rod Thomas an ominous proposition if given room to manoeuvre. They would have been heading for Adams Park on equal terms if their shooting-on-sight was tuned in, Hyde being rooted to the spot on one occasion. But Carlisle's feathers were ruffled and it robbed them of any fluency. Creaser remained a tower of strength in central defence to contain David Reeves.
The match generally became scrappy in the second half as Carlisle pressed. Their fans hinted at some horrors to come with a domestic punch-up on one of the terraces. United continued efforts to level. Simon Davey's shot went narrowly wide of the near post on 70 minutes after the ball pin-balled around the box following Hyde's punched clearance.
Walling had a header go over the bar from on the goal line following Davey's cross and Joe Joyce's snap-shot effort moments later wasn't far out. Garner crowned Blues glory with four minutes to go, while the natives grew increasingly restless. Thompson sped away on a 15- yard break from midfield and passed to Garner on his left. The journeyman striker thumped it inside the near post with a classy finish. The resulting pitch invasions threatened to stop the match being played out. Play resumed after a few minutes, but referee Brian Hill took the players off before stoppage time was completed.