Wycombe Wanderers 1
Preston North End 1
Saturday 7th May 1994
Football League Division Three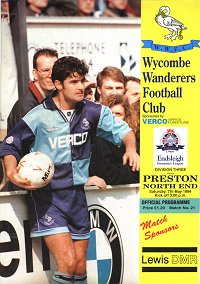 The final regular League game of the 1993/94 season against Preston North End on Saturday 7th May 1994 was now one where Wycombe had to win and then rely on Crewe failing to take three points at Chester City. The game at Adams Park was another all-ticket affair although Wanderers had managed to raise the capacity of the ground to 9,000 just a few days before this game after spending £10,000 installing additional crash barriers along the Woodlands Terrace. A crowd of 7,442 would eventually turn out to see this nervewracking encounter.
The day started with Jason Cousins being presented with the Player of the Season award. However, like the game at Crewe, Wanderers gifted the opponents an early lead when Ryan Kidd scrambled the ball home following a corner. And once again Wanderers dragged themselves back into the game and eventually equalised on 40 minutes when Creaser prodded home after a Dave Carroll corner from the left. The news came through at the break that Crewe were drawing at Chester and knowing that a win could mean promotion it was with extreme frustration as Wanderers couldn't quite find the net again - Simon Garner going the closest in the dying momemnts when his shot from the right channel skimmed the wrong side of the opposite upright. It was almost a relief to hear that Ashley Ward had a struck a later winner for Crewe and Wycombe's result was relatively unimportant as thoughts turned to the play-offs.
Martin O'Neill commented after the Preston game "We are still capable of getting promotion and I suppose if your heart can stand it, the best way to do it is by winning at Wembley." He also commented later "We are in a play-off situation. I suppose we would have all settled for that at the beggining of the season but because we have been in the top four or five for so long it is a bit disappointing."
Having finished in 4th spot in the table, Wanderers would travel to Carlisle United on Sunday 15th May 1994 in the first of the two-legged play-off semi-final. However, before then there would be some light relief with a first ever appearance in the Evening Standard Fives tournament at Wembley Arena.

Wycombe: Hyde, Cousins, Stapleton. Crossley, Creaser, Ryan, Carroll, Thompson (sub 84 Reid), Hemmings (sub 64 Cusack), Garner, Guppy - sub unused: Moussaddik (GK)
Scorers: Creaser 40
Bookings: none
Preston: Woods, Fensome, Squires (sub 90 Hicks), Cartwright, Kidd, Moyes, Ainsworth, Lucas, Raynor, Bryson, Magee (sub 49 Challender) - Sub unused: Berryman (GK)
Scorers: Kidd 11
Bookings: none
Referee: Mr G Singh
Attendance: 7,442
What the papers said:
Bucks Free Press - Claire Nash reporting from Adams Park: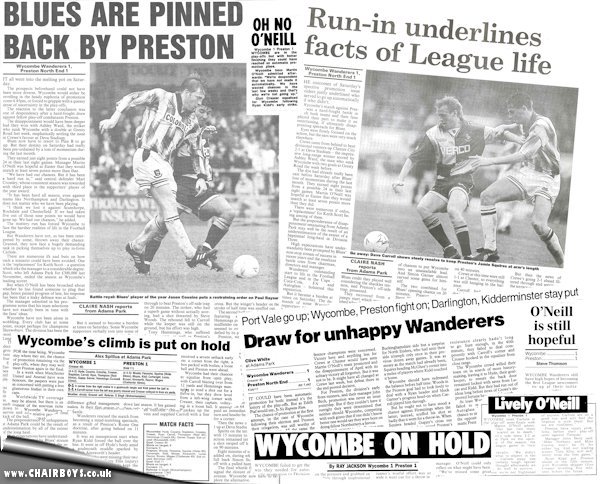 It all went into the melting pot on Saturday. The prospects beforehand could not have been more diverse. Wycombe would either be revelling in the heady euphoria of promotion come 4.45 pm, or forced to grapple with a queasy sense of uncertainty in the play-offs. The reaction to the latter conclusion was one of despondency after a hard-fought draw against fellow play-off combatants Preston. The disappointment would have been deeper had they won with Ashley Ward, the striker who sunk Wycombe with a double at Gresty Road last week, emphatically settling the issue in Crewe's favour at Deva Stadium. Blues now have to resort to Plan B to go up. But their destiny on Saturday had really been pre-ordained by a loss of momentum during the last month.
They earned just eight points from a possible 24 in their last eight games. Manager Martin O'Neill was hopeful at Easter that they would snatch at least seven points more than that. "We have had our chances. But it has been a hard run in," said central defender Matt Crossley, whose consistent season was rewarded with third place in the supporters' player of the year award. "It has been hard all season, even against teams like Northampton and Darlington. It does not matter who we have been playing. I think we lost it against Scunthorpe, Rochdale and Chesterfield. If we had taken five out of those nine points we would have gone up. We had our chances," he added.
The stuttery run has forced Wycombe to face the harsher realities of life in the Football League. But Wanderers have not, as has been interpreted by some, thrown away their chance. Granted, they now face a hugely demanding task in picking themselves up to play in-form Carlisle. There are numerous ifs and buts on how such a scenario could have been avoided. One s the 'replacement' for Keith Scott—a question which irks the manager to a considerable degree. Scott, who left Adams Park for £300,000 last November, ended the season as Wycombe's leading scorer. But when O'Neill has been broached about whether he has found someone to plug that gap, hence pained progress of late, his response has been that a leaky defence was at fault.
The manager admitted in his programme notes that his team selections have not exactly been in tune with the fans' ideas. Wycombe have not been alone in wobbling. Every club has at some point, except perhaps for champions Shrewsbury. The division has been the most competitive in the Football League. The play-offs have had the impact decision-making mandarins desire, giving sides seemingly out of the picture the chance to get back in the frame in the manner of Carlisle. Every team Blues played since Easter, apart from Scarborough (who beat Wycombe), were gunning for either automatic promotion or the play-offs. The way the Premiership relegation issues were settled last Saturday, the final two positions changing umpteen times between 3pm and 4.45pm, underlines how far down to the wire such matters go. In the end it came down to a test of various parties' nerves and in some cases the final kick of the ball. The preponderance of unhappiness atAdams Park could be the result of underestimation by all of the extent of the long haul. High expectations have understandably been prompted by Blues' stream of success in recent years and the resultant 'we have the scope to go all the way like Wimbledon' battle cries from chairman, directors and manager alike. Wanderers' outstanding start to life in the Football League and in the The Coca-Cola, FA and Autoglass bolstered their reputation. But it seemed to become a burden at times on Saturday. Some Wycombe supporters verbally tore into some of the players, some not admittedly on the top of their form, at the first sign of a struggle. Perhaps a lift was what was needed? From some quarters, quite frankly, Blues didn't receive it. You would have thought it would be otherwise as the match opened amid a terrific atmosphere. Jason Cousins received a deafening ovation for winning the supporters' player of the year. Wycombe's fans had filled three sides of the ground to near capacity for their highest league gate, 7,442, of the season. Preston's contingent didn't quite take up the Hillbottom terrace, but their travelling drum band's rhythms enhanced the heat of battle. Wanderers rescued the match from becoming a mind-numbing spectacle, as a result of Preston's Route One doctrine, after going behind on 11 minutes. It was an inauspicious start when Ryan Kidd forced the ball over the line. It went in off Hyde's body amid a goalmouth muddle sparked by Gareth Ainsworth's header.
Preston, who were missing their two mainstay strikers Tony Ellis (injury) and Mike Conroy (rested) kept the pressure on. But Wycombe responded through Dave Carroll who put Simon Garner through to beat Preston's off-side trap on 20 minutes. The striker, who had a superb game without actually scoring, had a shot thwarted by Steve Woods. The rebound fell to Carroll while the keeper was still on the ground, but his effort was high. Tony Hemmings, who suffered from his own, as well as Preston's hands, in the off-side department, saw a chance go wide of the near post after a fine build-up by Carroll, Jason Cousins and Keith Ryan. Within seconds Garner carved another opportunity with a cross which seared across the goal-face. Guppy forced the corner from which captain Glyn Creaser levelled. Carroll's cross was played on in the box. Creaser picked it up and blasted into the top corner on 40 minutes.
News from elsewhere was also good, with Crewe at that time level, at 1-1, against Chester. But Wycombe still had it all to do if they were to capitalise from such an outcome. Garner picked up the vein and supplied Carroll with a fine cross. But the winger's header on the stroke of half time was snuffed out. The second half opened with Carroll featuring strongly once again. Hemmings put in a good cross to the midfielder on 48 minutes, but Carroll seemed to over-run the ball, or was defied by its pace. Preston, well disciplined and perhaps not shackled by the tension as much as Wycombe, were still prone to making life uncomfortable.
Hyde saved well from David Moyes' header from Paul Raynor's cross on 51 minutes. Blues' best chance of the match would have been a glorious goal had it gone in. Gamer went on a solo run after pouncing on a loose pass by Preston's Ian Bryson. He went past two defenders before unleashing a shot which hit the far post on 63 minutes. Nicky Cusack, who has been scoring freely in the reserves, replaced Hemmings on 64 minutes and nearly paid an immediate dividend, his fine turn and header being scrambled away for a corner. Then the news of Crewe's going 2- 1 up at Deva Stadium filtered through. Spirits on the terrace seemed to sag with 15 minutes to go. But the pitch action remained intense. Creaser had a shot swiped off his toes by Woods on 90 minutes. Eight minutes of stoppage time was added on, during which Blues' utility full back Simon Stapleton hobbled off with a pulled hamstring. The final whistle finally arrived to signal the closure of one promotion avenue. Wycombe now have to explore the alternative.