Wycombe Wanderers 2
Scunthorpe United 2
Saturday 23rd April 1994
Football League Division Three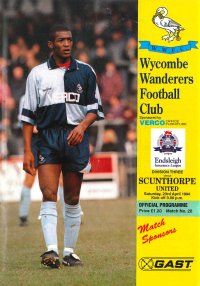 Wanderers went into their home match with Scunthorpe United on Saturday 23rd April 1994 desperately needing three points to maintain the chances of automatic promotion to Division Two. However, 9th place Scunthorpe provided tough opposition on a day when Wanderers paraded a new light and dark blue quartered kit.
After a goalless first-half, the visitors took the lead on 49 minutes when referee John Brandwood waved play-on after a handball and Mark Smith shot home from the edge of the box. But Wycombe responded with firey spell culminating on 57 minutes when Steve Thompson laid the ball off to Jason Cousins on the right side of goal who powered a shot so hard into the top corner of the net that it literally had to be hammered out of the stanchion by the 'keeper and defender.
Keith Ryan then fired wide on 69 minutes and a minute later Simon Stapleton saw an effort hit the post. Wycombe's reward came in the 78th minute when a brave header from Glyn Creaser connected with Dave Carroll's free-kick from the left and the ball sailed into the Valley End net. It was a richly deserved goal but there was to be a cruel twist in the tale as Mr Brandwood pointed to the spot with six minutes remaining after an innoculous looking challenge by Matt Crossley on Sammy Goodacre close to the right bye-line. Not one Scunthorpe player claimed for a penalty but it didn't stop Wayne Bullimore converting the kick to steal a point for the visitors. Speaking after the game Martin O'Neill said "Scunthorpe have players who play good football but we completely outplayed them. They have got out of jail and the referee had a lot to do with it. It may sound like sour grapes but he made some mind-boggling decisions." Those decisions even prompted Simon Stapleton's dad to invade the pitch at the end of the game and attempt to confront the referee. He was eventually led away by Police and warned of his future conduct.

Wycombe: Hyde, Cousins, Stapleton, Crossley, Creaser, Ryan, Carroll, Hemmings, Thompson, Garner (sub 84 Langford), Guppy - subs unused: Brown. Moussaddik (GK)
Scorers: Cousins 57, Creaser 78
Bookings: Hyde 84 (dissent)
Scunthorpe: Heath, Alexander, Hope, Knill, Bradley, Carmichael, Henderson (sub 83 Goodacre), Bullimore, Juryeff, Thornber, Smith - subs unused: Trebble, Price (GK)
Scorers: Smith 49. Bullimore 84 (penalty)
Bookings: Bradley 60 (foul), Alexander 90 (foul)
Referee: Mr M Brandwood
Attendance: 5,755
What the papers said:
Bucks Free Press - Claire Nash reporting from Adams Park: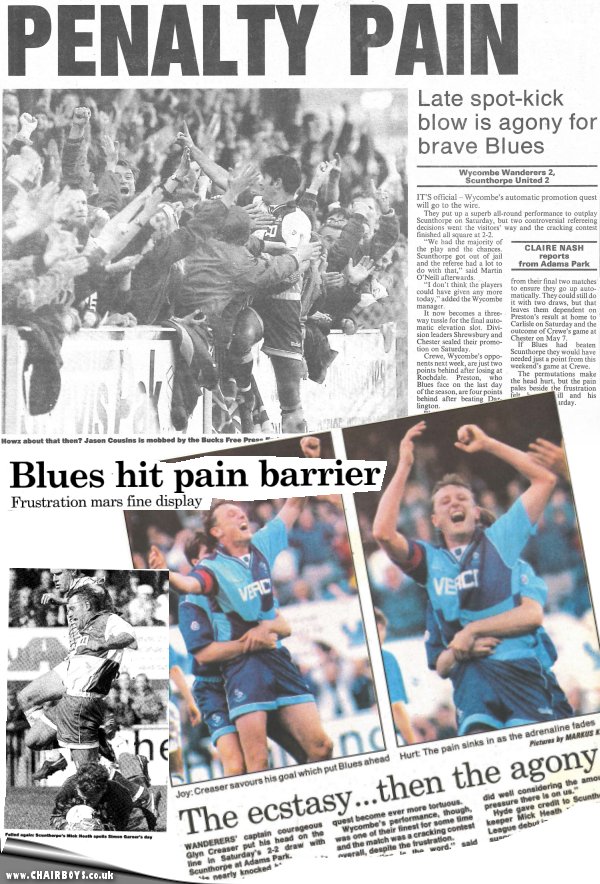 It's official - Wycombe's automatic promotion quest will go to the wire. They put up a superb all-round performance to outplay Scunthorpe on Saturday, but two controversial refereeing decisions went the visitors' way and the cracking contest finished all square at 2-2. "We had the majority of the play and the chances. Scunthorpe got out of jail and the referee had a lot to do with that," said Martin O'Neill afterwards. "I don't think the players could have given any more today." added the Wycombe manager.
It now becomes a three- way tussle for the final automatic elevation slot. Division leaders Shrewsbury and Chester sealed their promotion on Saturday. Crewe, Wycombe's opponents next week, are just two points behind after losing at Rochdale. Preston, who Blues face on the last day of the season, are four points behind after beating Darlington. Blues need four points from their final two matches to ensure they go up automatically. They could still do it with two draws, but that leaves them dependent on Preston's result at home to Carlisle on Saturday and the outcome of Crewe's game at Chester on May 7.
If Blues had beaten Scunthorpe they would have needed just a point from this weekend's game at Crewe. The permutations make the head hurt, but the pain pales beside the frustration felt by O'Neill and his players last Saturday. Wycombe battled back from behind to lead 2-1 through Jason Cousins' venomous shot which lodged in the goal stanchion and Glyn Creaser's looped header. The Wanderers skipper nearly knocked himself out in the process of scoring the goal. Blues had initially gone behind on 49 minutes against the run of first- half play. There was a clear handball in the move leading up to Scunthorpe's goal scored by Mark Smith, but referee John Brandwood decided it was not a deliberate infringement. The visitors continued the attack. Damian Henderson sold Blues' defence a dummy, Smith stole in and slotted home in the bottom corner. O'Neill's frustration boiled over and he was duly booked by Brandwood who later forced Wycombe to swallow an even more bitter pill. They were stunned when the referee pointed to the spot after Matt Crossley's 84th-minute challenge on Sammy Goodacre. The Scunthorpe substitute battled to get a cross in from the by-line. Crossley appeared to take out the ball rather the man. Television footage showed that Goodacre did not go down and his team-mates did not appeal. Blues' keeper Paul Hyde was booked for his protests. He went the right way for Wayne Bullimore's spot-kick but he couldn't keep it out.
It was a kick in the teeth for Wycombe's multitudes at Adams Park. They chanted passionately throughout, despite not seeing Blues rewarded for a fine first half. It would have been somewhat different if Scunthorpe's debutant keeper Mick Heath and his well organised defence had not been so resolute. Wycombe's midfield had emphatically pulled the strings. Thompson, who retained his place as did all the players from the previous Tuesday's Rochdale game, was typical of their sense of purpose. Keith Ryan, too, was an able general as Wycombe set about their opponents who are themselves scrapping to reach the play-offs.
Gone was the ghastly generosity of leaked possession, as seen in many recent matches. The only kindness Wycombe showed Scunthorpe was lending them a set of white shorts. Strikers Simon Garner and Tony Hemmings had their day ruined by. Heath's competence. Garner, whose lay-offs and flick-ons are as deadly as efforts in front of goal, had a volley from Dave Carroll's high cross into the box denied by Heath after the keeper was initially unsighted. Steve Guppy's 40-yard free kick hit the bar. Heath had to have two bites at smothering Garner's 35th- minute shot. Thompson had a chance to blast Blues into the lead on 43 minutes. Garner smacked a 25-yard pass straight down the middle to Guppy who fed Hemmings. The striker's shot was blocked, Thompson picked up the rebound, but blasted over the stand. Hyde, who was relatively untroubled at the other end, was forced to pick Smith's effort out of the net four minutes into the second half. Wycombe regained their composure. Cousins began the move which he ultimately finished so emphatically on 57 minutes. After bringing the ball out of defence he passed to Ryan who crossed into the box. Thompson, seeing Cousins steaming in, laid the ball on for the full back who precisely picked his spot and thwacked the ball firmly into the stanchion. The Bucks Free Press End enveloped him. It was some time before Heath could dislodge the ball, such was the velocity of the shot. Scunthorpe remained a considerable threat on the break. And Wycombe — to a man — grafted away tackle-wise to stem anything ominous. There were further opportunities for Blues. Ryan was woefully off target from Carroll's centre on 69 minutes. Simon Stapleton almost redeemed himself for last week's miss against Rochdale when his long- range shot hit the post on 70 minutes. Then Captain Creaser came to the rescue when his brave header amid the close attentions of two defenders sailed over Heath, who looked helpless for the first time in the game. The scoreline justly reflected the amount of possession Wycombe had had. It was almost as much as there had been in the previous month's matches put together. But Mr Brandwood was to make justice fly out of the window in the eyes of many. Blues stomached it. The scene is now set for a heart-stopper at Crewe.