Wycombe Wanderers 1
Swansea City 0
Tuesday 22nd March 1994
Auto Glass (Football League) Trophy
Southern Area Final - 2nd Leg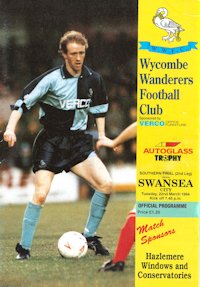 The second leg of the AutoGlass Southern Area Final took place on Tuesday 22nd March 1994 as Swansea City made their first ever visit to Adams Park protecting a 3-1 lead from the first game in Wales.
The visitors brought with them a sizeable following amongst the 6,710 attendance but they didn't cover themselves with glory as a minority caused damage at nearby pubs before delaying the kick-off by six minutes with several minor pitch invasions. However, those travelling supporters were soon silenced by a blistering opening by the Wanderers which culminated in Tony Hemmings knocking in a rebound from Guppy's shot on 29 minutes to give Wycombe the lead on the night.
As Wanderers pressed for an aggregate leveller, the visitors found openings and Paul Hyde had to save well from Mark Clode and Andy McFarlane after the break. In a final attempt to draw the scores level Glyn Creaser was pushed up front and in stoppage time Tim Langford came within inches of silencing the baying mob from Swansea. But it was not to be and despite this gallant attempt by Wycombe, it was Swansea who earned the trip to Wembley.
Wanderers' exit from the Autoglass Trophy prompted a flurry of transfer activity at the Club, with three players signed before the 5pm transfer deadline on Thursday 24th March 1994. Forward Tony Cunningham was signed for £4,000 from Doncaster. He was signed until the end of the season. Nick Cusack, 28, also joined Wycombe on loan until the end of the season from Oxford United. Meanwhile, goalkeeper Steve Book has been drafted in from Brighton as cover for Paul Hyde. Book signed a non-contract deal and would be shared with Conference club Slough Town, but with Wycombe having first call on his services. O'Neill said of Cunningham, "He is a big, strong boy. I know he is enthusiastic to see us go up." O'Neill also hoped that High Wycombe-based striker Cusack, Oxford's leading scorer during the 1993/94 season with six goals and a former Leicester City player, will impress sufficiently to be signed. "He has been playing regularly for Oxford, but has been out of favour in the last few weeks. hope he does well for us," said O'Neill. Elsewhere, Mark West joined Yeovil Town on a month's loan.

Wycombe: Hyde, Cousins, Titterton, Crossley, Creaser, Ryan, Carroll, Thompson (sub 74 Langford), Reid, Hemmings, Guppy - subs unused: Kerr, Mosssaddik (GK)
Scorers: Hemmings 29
Bookings: Cousins 55 (dissent), Crossley 57 (foul)
Swansea: Freestone, Jenkins, Clode (sub 90 Cook), Walker, Harris, Pascoe, Bowen. Rush, Torpey (sub 74 McFarlane), Cornforth, Hedge - sub unused: Miles (GK)
Scorers: none
Bookings: : Harris 10 (foul)
Referee: Mr P Alcock
Attendance: 6,710
What the papers said:
Bucks Free Press - Claire Nash reporting from Adams Park:

Wycombe were just eight inches away from taking this gripping Autoglass regional final decider into extra time at Adams Park. Hopes of reaching Wembley for the third time in four years died the moment Tim Langford's stoppage-time effort went a whisker wide of the near post. "The players said Langford's shot was only eight inches away. I think if that had gone in then our determination and courage would have taken us through. I could not have asked for more from the players," said Martin O'Neill afterwards. His team's do-or-die heroics throughout Tuesday's electrifying tie so nearly overhauled the 3-1 deficit by which they trailed Swansea.
Blues covered themselves with glory with a 1-0 victory courtesy of Tony Hemmings. If they can find honour in overall defeat, then they struck a rich vein in front of a 6,710 crowd. What honour many of Swansea's fans took back to Wales, God only knows. They did their damnedest to stain the occasion with stomach-churning displays of hooliganism. A pitch invasion delayed the kickoff by six minutes and they continued to overshadow their team's distinguished efforts in stemming Wycombe's considerable onslaught.
Thankfully Wanderers' break-neck opening silenced the flutters before their passionate euphoria spilled over after the final whistle. Matthew Rush's cross, which flashed in front of an open goal on seven minutes, was Swansea's last significant attack of the half.
Hemmings' pace up front haunted Keith Walker throughout. The striker, in his first full game in two months, spurned a golden chance on 23 minutes after pouncing on Mark Clode's clumsy back pass. The striker only had Roger Freestone to beat, but struck his shot at the keeper. Nicky Reid and Steve Thompson resolutely charged on in midfield to supply wingers Dave Carroll and Steve Guppy. The pair combined superbly to set up Wycombe's goal. Carroll played the ball from the right flank to the unmarked Guppy on the left. The latter raced on and let rip with a shot Freestone could only parry. Hemmings was on hand to thump the ball home on 29 minutes. Swansea's first calculated attack did not materialise until ten minutes into the second half. Blues' captain Glyn Creaser had all-but marked striker Stephen Torpey out of the game.
David Titterton carried out a similar restraining order on Swansea's £600,000 plus-rated winger Jason Bowen. The pressure and tension intensified midway through the second half. Jason Cousins and Matt Crossley were booked during a shaky patch. Paul Hyde, rarely troubled in the first half saved superbly from Clode after John Hodge carved an opening. Blues' keeper came to the rescue again when Andy McFarlane whipped in a dangerous cross on 75 minutes. Creaser was pushed up front. O'Neill prowled up and down the near touch- line to harangue his players into one last stand. It was not to be. But Blues still have rich glories to grab.