Swansea City 3
Wycombe Wanderers 1
Tuesday 1st March 1994
Auto Glass (Football League) Trophy
Southern Area Final - 1st Leg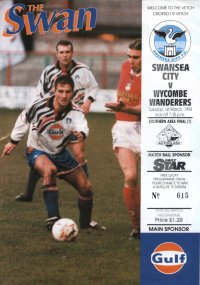 Wanderers made their first ever visit to The Vetch on Tuesday 1st March 1994 to play Swansea City in the First Leg of the Southern Area Final of the AutoGlass Trophy. The home side were aiming to reach Wembley for the first time in their history and were backed by a partisan crowd of 6,335 on a windswept evening in South Wales.
From the off The Swans laid siege on an under strength Wanderers side and took the lead in the 10th minute when Matthew Rush miss hit a shot to the right of goal only for Stephen Torpey to pick up possession and centre for Colin Pascoe to power the ball past Paul Hyde from close range. Then on 29 minutes a corner from the right saw Jason Bowen double their lead when he headed home at the far post as the ball squeezed through the Wanderers defence.
Wanderers fans could have been forgiven for fearing the worst at this point but within two minutes Simon Garner pulled Martin O'Neill's side back into the game with his first goal in a Wycombe shirt - the veteran striker firing home Tim Langford's lay off to left side of the penalty area. Keith Ryan then went close to levelling moments later to give the travelling fans some hope.
After the break both David Titterton and Glyn Creaser came on to make their first appearances for two months but it was the home side who scored a crucial third goal with 14 minutes remaining - Pascoe nicking his second of the night when he squeezed a header past Hyde following a Rush cross from the right to make the final score Swansea 3 Wycombe 1 with the second leg at Wycombe to come.
Meanwhile, Wanderers boss Martin O'Neill had put the disappointment about some Wycombe supporters' negative response to a poor run firmly behind him to look ahead with a new resolve. "I am not down," O'Neill told the local press shortly after the tie at Swansea. "I have got new resolve. I want to see this job through to the end." The Wycombe manager's words put some concerned fans' minds at rest. O'Neill also said in a radio interview that fierce criticism after three consecutive League defeats was a watershed in his four-year reign at the club. First team coach Paul Franklin admitted that he and O'Neill had taken the boos during the 1-0 defeat by Wigan two weeks ago more personally than the players. O'Neill said, "I am not above criticism. A lot of people always want to be. I have been too long in the game not to know that things do not go smoothly all the time. "My annoyance was that while I think it was a poorish time for us we did not deserve the booing. If it is a minority, they sure make a lot of noise."

Wycombe: Hyde, Cousins, Stapleton. Crossley, Blatherwick (sub 65 Creaser), Ryan, Carroll, Thompson (sub 45 Titterton), Langford. Garner, Guppy - sub unused: Moussaddik (GK)
Scorers: Garner 32
Bookings: none
Swansea: Freestone, Jenkins, Cook, Walker, Harris, Pascoe, Bowen, Rush, Torpey, Cornforth, Ampadu (sub 72 Hodge) - subs unused: McFarlane, Miles (GK)
Scorers: Pascoe 10, 76, Bowen 29
Bookings: Ampadu 60 (foul), Cook 78 (dissent)
Referee: Mr M Pierce
Attendance: 6,335
What the papers said:
Bucks Free Press - Claire Nash reporting from Vetch Field: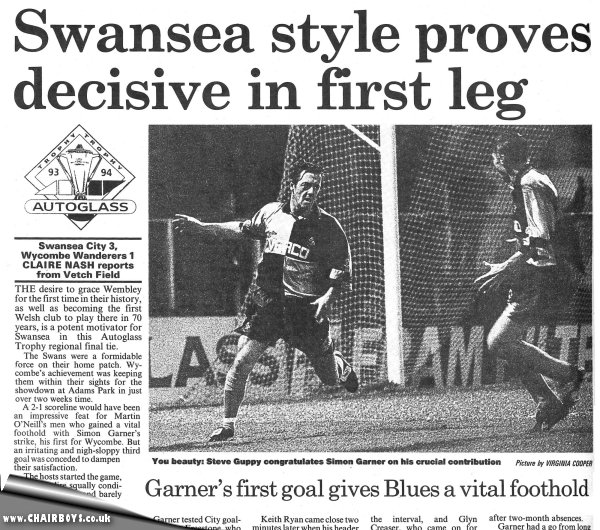 The desire to grace Wembley for the first time in their history, as well as becoming the first Welsh club to play there in 70' years, is a potent motivator for Swansea in this Autoglass Trophy regional final tie. The Swans were a formidable force on their home patch. Wycombe's achievement was keeping them within their sights for the showdown at Adams Park in just over two weeks time. A 2-1 scoreline would have been an impressive feat for Martin O'Neill's men who gained a vital foothold with Simon Garner's strike, his first for Wycombe. But an irritating and nigh-sloppy third goal was conceded to dampen their satisfaction.
The hosts started the game, played in dire squally conditions, in top gear and barely let up the pressure. Their midfield hit Blues like a tidal wave. Hyde had to snatch at Kwane Ampadu's shot at his second attempt after the former West Brom player let rip on Matthew Rush's right- wing cross on four minutes. It threatened to be a floodgates scenario after Cohn Pascoe opened the scoring six minutes later. Rush, in a second loan spell from West Ham, was the supplier once more. Stephen Torpey pulled back the cross for Pascoe to emphatically steam in.
Torpey, Swansea's sole out-an-out striker, in a 4-5-1 formation, spurned a free shot from close range Wycombe's first genuine attempt arrived on 20 minutes. Garner tested City goalkeeper Roger Freestone, who parried the drilled shot before smothering safely. But Swansea were on the hunt again when Ampadu's cross had Wanderers at cross purposes on 29 minutes. Bowen stooped low to fire in an assured header. Blues responded immediately and swept forward. Skipper Jason Cousins, who gave a stalwart performance under immense pressure from Bowen and Pascoe, won the ball in Swansea's half to feed Langford. Wycombe's leading scorer crossed the ball square to Garner who escaped his marker to emphatically fire the ball inside the near post on 31 minutes. Keith Ryan came close two minutes later when his header almost converted Dave Carroll's neat far-post flick on from Steve Guppy's corner.
Torpey, who had one effort cleared off the line, and Bowen, who had a blistering shot well-saved by Hyde, suggested, however, that Blues could be mountain climbing after the interval. Swansea's slick guns continued to blaze. Welsh Under-21 international Bowen, who recently spent three days training with Newcastle, combined with Pascoe and Cornforth to provide a rich vein of service from the left. David Titterton, who replaced Steve Thompson at the interval, and Glyn Creaser, who came on for Steve Blatherwick, were thrown in at the deep end after two-month absences. Garner had a go from long range after Ryan's lay-off on 74 minutes, but his shot was always veering off-target. The game went awry on both sides' parts for a 15- minute spell, but Swansea induced delirious conga-dancing scenes on the terraces. Pascoe squeezed in his second of the night on 76 minutes. Hyde looked to have the midfielder covered, but Pascoe's header squirmed beyond the keeper's reach at the near post. Wycombe kept their heads up, even if it was a holding operation. Blues have surmounted the supposed-insurmountable before. This battle has only just begun.