Wycombe Wanderers 0
Wigan Athletic 1
Saturday 19th February 1994
Football League Division Three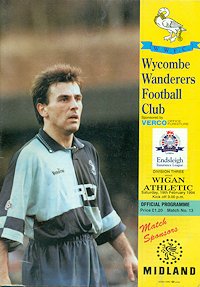 Wanderers home game with fourth from bottom Wigan Athletic on Saturday 19th February 1994 turned out to arguably the low point of the 1993/94 season for varying reasons. Wycombe fielded debutant Nottingham Forest loanee defender Steve Blatherwick in their starting line-up as a replacement for out of favour Andy Kerr. However, Wanderers were a goal down after ten minutes when Andy Lyons finished past Hyde and having failed to get back into the game, then saw debutant Blatherwick sent off in the 70th minute for his verbal reaction to be being booked by referee Keith Cooper. Keith Ryan and Garner went close to snatching a draw in the dying moments but it was the reaction from certain sections of the crowd that proved to be the talking point afterwards. Cries of 'Martin, Martin, sort them out' came at the half-time interval and there was some booing at the final whistle following the 1-0 defeat. It's probably fair to say that Martin O'Neill wasn't amused.
The Wycombe boss refused to talk to the press after the game and First Team Coach Paul Franklin stepped in to try and calm things down. He said "They pay their money, they are entitled to say what they think. But considering the success Martin and the players have brought to the Club, it is disappointing they are not getting behind them during a difficult time." The moaning fans were widely condemed by the Wanderers hardcore of support through comments and letters to the local press but not before Club Chairman Ivor Beeks and O'Neill had said their piece in what were to become a relatively unread set of programme notes issued for the postponed game with Rochdale on Tuesday 22nd February 1994. Read more from the ten year retro as O'Neill lets rip at the boo boys
Other news in the week leading up to the Wigan game had seen Wanderers take brief break from the serious business of Division Three when Marlow were the visitors to Adams Park in the Second Round of the Berks and Bucks Senior Cup on Tuesday 16th February 1994. A crowd of just over 1,000 struggled to see through the descending fog for the majority of the game where reports indicate that Wanderers lost 3-1 after extra-time. Dave Carroll scored Wycombe's goal in normal time to equalise an earlier David Lay penalty for Marlow. Garfield Blackman put the visitors 2-1 ahead in the 97th minute and then with 15 minutes remaining of extra-time, Wycombe introduced 'keeper Paul Hyde up front in place of Alec Norman. Hydey went close to scoring (and flattening an opponent), before David Lay chipped the ball over a motionless Chuck Moussadik to seal victory for Marlow.
The game against Marlow proved to be the last in a Wycombe shirt for transfer-listed Andy Kerr. The 27 year old defender joined Wanderers in Setember 1988 and went on to make just over 250 appearances and scoring 33 times. Only ten months previous he had scored one of the goals in the famous FA Trophy Final victory over Runcorn at Wembley.

Wycombe: Hyde, Cousins, Stapleton, Crossley, Blatherwick, Ryan, Carroll, Brown (sub 64 Thompson), Turnbull (sub 64 Langford), Garner, Guppy - sub unused Moussaddik (GK)
Scorers: none
Bookings: Brown 21 (foul), Blatherwick 70 (sent-off second bookable offence)
Wigan: Farnworth, Rennie, Wright, Robertson, Skipper, Kennedy, Langley, Connelly, Gavin, Morton (sub 79 Duffy), Lyons - subs unused: Rimmer, Pennock (GK)
Scorers:Lyons 10
Bookings: Gavin 33 (dissent), Robertson 47 (foul)
Referee: Mr K Cooper
Attendance: 4,846
What the papers said:
Bucks Free Press - Claire Nash reporting from Adams Park: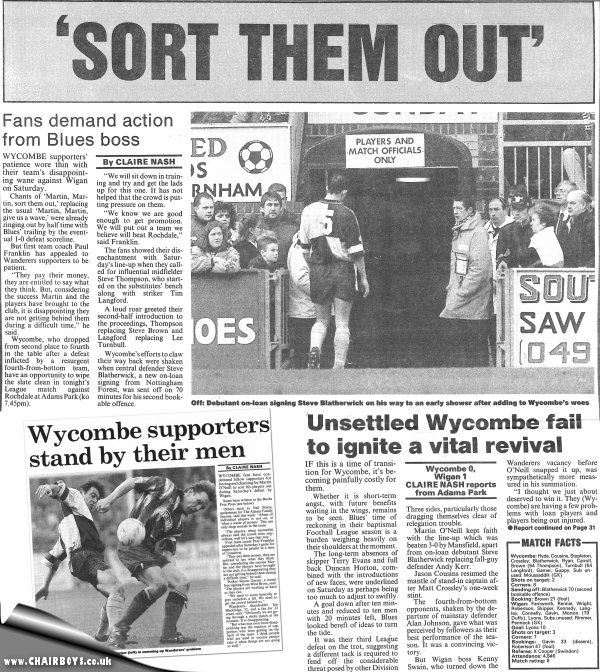 If this is a time of transition for Wycombe, it's becoming painfully costly for them. Whether it is short-term angst, with future benefits waiting in the wings, remains to be seen. Blues' time of reckoning in their baptismal Football League season is a burden weighing heavily on their shoulders at the moment. The long-term absences of skipper Terry Evans and full back Duncan Horton, combined with the introductions of new faces, were underlined on -Saturday as perhaps being too much to adjust to swiftly. A goal down after ten minutes and reduced to ten men with 20 minutes left, Blues looked bereft of ideas to turn the tide.
It was their third League defeat on the trot, suggesting a different tack is required to fend off the considerable threat posed by other Division Three sides, particularly those dragging themselves clear of relegation trouble. Martin O'Neill kept faith with the line-up - which was beaten 3-0 by Mansfield, apart from on-loan debutant Steve Blatherwick replacing fall-guy defender Andy Kerr. Jason Cousins resumed the mantle of stand-in captain after Matt Crossley's one-week stint.
The fourth-from-bottom opponents, shaken by the departure of mainstay defender Alan Johnson, gave what was perceived by followers as their best performance of the season. It was a convincing victory. But Wigan boss Kenny Swain, who turned down the Wanderers vacancy before O'Neill snapped it up, was sympathetically more measured in his summation. "I thought we just about deserved to win it. They (Wycombe) are having a few problems with loan players and players being out injured. "It's a transitional period for them. These things take time," said Swain. A sympathetic stance from a rival boss. Such sentiments were given short shrift by some impatient sections of Wycombe's supporters. The natives, not used to losing streaks, didn't beat about the bush. "Martin, Martin, sort them out," reverberated around Adams Park as half time loomed.
Wanderers seemed to have had it sorted at the start. Simon Garner had Wigan's defence flustered as he endeavoured to latch onto Steve Guppy's free kick. A scramble ensued when Wigan failed to clear it. But the visitors went ahead within seven minutes. Pat Gavin flicked on Mick Kennedy's free kick to Andy Lyons and the midfielder's classy finish planted the ball the in the far corner of the net. The visitors continued to.play the ball around intelligently. Wycombe build-ups went astray between the midfield and forwards. Wigan playmaker Kennedy, Swain's former Portsmouth team-mate, was a picture of perpetual motion off the ball as he ran into, perfect positions from which to make telling inroads.
Wanderers' wily marksman Garner did as much sprint work up front but he was given woefully little to work with. One of the biggest home cheers greeted the start of substitutes Steve Thompson's and Tim Langford's warm up. O'Neill refrained from making any changes until after the interval. A promising start floundered. Within six minutes the manager was presented with a hole he couldn't fill. Blatherwick was sent off after referee Keith Cooper objected to the centre half's verbal reaction to a 70th minute booking for a foul on Lyons. An early shower for Blatherwick, and the blows rained down on Wycombe although their best efforts followed.
Keith Ryan's header from Dave Carroll's corner was cleared off the line. Then Garner's meaty header from Guppy's cross on 80 minutes was tipped over by Simon Farnworth. Wigan threatened through Lyons' long range shot which tested Hyde on 81 minutes. Blues forced a flurry of late corners. But there was nothing to give them the lift they now sorely need.