Mansfield Town 3
Wycombe Wanderers 0
Saturday 12th February 1994
Football League Division Three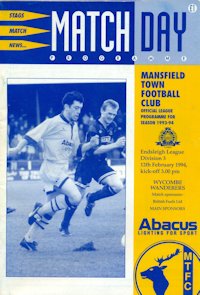 New signing Steve Brown made his Wycombe League debut in the Division Two game at Mansfield Town on Saturday 12th February 1994. The game saw Wanderers return down to earth with a bump after the highlight of beating Fulham. The home side took the lead in the 27th minute through Wayne Fairclough when he flicked the ball past Paul Hyde from close range after Wycombe had been caught out from a short corner. Wanderers' chances were few and far between with the best effort coming in the opening minute of the second-half when Brown's dipping shot was tipped over by the home 'keeper. However, on the hour mark Wanderers went further behind when The Stags new signing from Derby County, Stewart Hadley, fired past Hyde from an unmarked position at the far post. Eight minutes later it was well and truly 'game over' when Hadley got past Andy Kerr and his cross found Steve Wilkinson who converted with ease. Brown was substituted shortly afterwards following an eratic debut as Wanderers crashed to their second successive League defeat.
Martin O'Neill was not happy after the game, describing it as the worst display since he took charge four years previous and adding, "We were pitiful, absolutely pitiful. We did not get into it all. There was no desire." He was also less than sympathetic to the new players, saying, "If players need three or four games to settle down, that's not good enough. We don't have time to wait for players to settle down." Wanderers remained 2nd in the table after the defeat with 47 points from 27 games but Shrewsbury were level on points with a game in hand, closely followed by four clubs on 44 points - Preston, Torquay, Chester and Walsall.

Wycombe: Hyde, Cousins, Stapleton, Crossley, Kerr, Ryan, Carroll, Brown (sub 69 Thompson), Turnbull (sub 50 Langford), Garner, Guppy - sub unused: Moussaddik (GK)
Scorers: none
Bookings: none
Mansfield: Ward, Fleming (sub 49 Noteman), Boothroyd, Holland, Gray, Fairclough, Timons, Parkin, Wilkinson, Hadley (sub 66 Wilson), Rees - sub unused: Pearcy (GK)
Scorers:Fairclough 27, Hadley 60, Wilkinson 68
Bookings: none
Referee: Mr J Winter
Attendance: 3,009
What the papers said:
Bucks Free Press - Claire Nash reporting from Field Mill: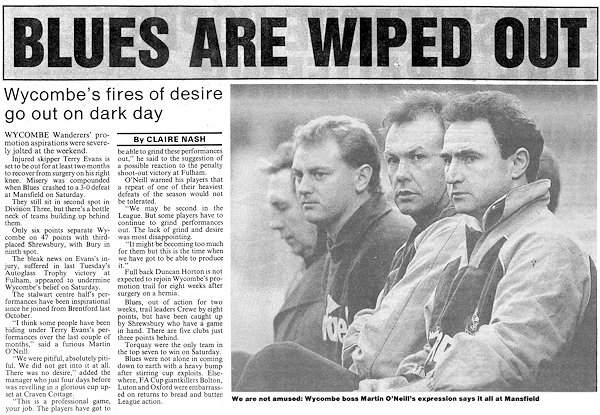 Whatever the explanation for it, Wycombe appeared to suffer their worst hangover of the season on Saturday. Just four days previously they were the dream-breakers, knocking in-form Second Division club Fulham out of the Autoglass Trophy in a scintillating display at Craven Cottage. But they were on the receiving end at Field Mill. Mansfield were the passion-killers, once Blues had seemingly dowsed their own fires with a tepid display. "It was a poor performance," said goalkeeper Paul Hyde, who initially put it more forcefully with asterisks beckoning.
One goal behind at half time, Wycombe's nearest chance to get a foothold came in the opening minute of the second half. Steve Brown stretched Town keeper Darren Ward when his shot from Steve Guppy's free kick looked likely to sneak under the cross bar. But Ward, although surprised, reached it with his fingertips, and that was effectively it as far as Wanderers' questionable promise was concerned on Saturday.

But the game started reasonably well for Blues. Paul Hyde had a busy first half, but contained Mansfield's activity within the six-yard box. Garner's shot from striking partner Lee Turnbull's lay off just missed going the right side of the near post on 14 minutes. But Hadley was showing menacing strength on the break which troubled both Andy Kerr, coming in for injured Terry Evans in central defence, and full back Jason Cousins, the latter being a feat in itself. Wayne Fairclough forced Mansfield's opener on 27 minutes after a period of pressure. Adey Boothroyd's cross from a short corner had Wanderers' defence in disarray and Fairclough flicked the ball home from close range. Dave Carroll went on a deep foray on the right wing, and managed to floor three Mansfield markers as his shot rebounded off them, but the hosts' comical, though thorough, defending had the desired effect.
There was no stopping, or rather seemingly nothing to stop, Mansfield after the interval. Pacey striker Tim Langford replaced Turnbull, but did not receive adequate service suiting his pace. Mansfield went further ahead on 60 minutes. Hadley was found completely unmarked at the far post by Wilkinson. Hyde had no chance with the emphatic shot. Within eight minutes Wycombe's misery was complete. Brown's backpass to Kerr was intercepted by Hadley on the right wing. The striker shrugged off Kerr's attentions and crossed superbly for the incoming unmarked Wilkinson to rifle home. Former Northampton skipper Brown was substituted by Steve Thompson on a disappointing Blues baptism. Carroll had the ball in the net on 87 minutes, but the whistle had blown for a pushing infringement.