Wycombe Wanderers 3
Hereford United 2
Monday 3rd January 1994
Football League Division Three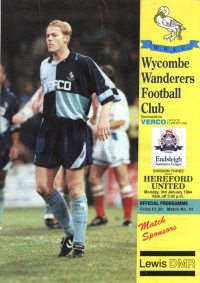 Just two days after their New Year's Day set-back at Walsall, Wanderers returned to form with a thrilling victory over Hereford United at Adams Park on Monday 3rd January 1994.
Wanderers ran Hereford ragged in the first-half, taking the lead in the 14th minute when Steve Thompson crossed from the right for Steve Guppy to send a diving header into the back of the Valley End net. The lead was doubled on 30 minutes when Lee Hodges' cross from the left saw Dave Carroll score with a stooping header from the near edge of the six yard box. Hodges missed a good chance to make it three just before the break and earlier referee Gurnam Singh waved away a penalty claim after Jason Cousins had been scythed down. Incredibly Wycombe let the lead slip. On 52 minutes Max Nicholson's deep cross from the left saw caught Paul Hyde out at the far post and Owen Pickard played the ball back from the bye-line for Howard Clark to convert. Six minutes later the scores were level when Paul Eversham sent in a low 20 yard shot from the right channel that crept past Hyde. However, it was Terry Evans to the rescue within a minute when he rose highest to head home Carroll's corner from the left and secure the three points to reclaim Wycombe's fourth spot in the table.
Some people blamed Hyde for both of United's goals but Martin O'Neill lept to his 'keepers defence, saying "People sarcastically clapping when he has stopped the ball doesn't do anybody any good." Read more here plus the release of the first Wycombe Wanderers subbuteo team and Alan Parry's 'Saddam Hussein Award' to Preston.

Wycombe: Hyde. Cousins, Titterton, Stapleton, Evans, Ryan, Carroll, Hodges, Thompson (sub 75 Hayrettin), Hemmings (sub 57 Langford), Guppy - sub unused: Moussaddik (GK)
Scorers: Guppy 14, Carroll 30, Evans 59
Bookings: none
Hereford: Judge, Clark, Preedy, Davies, Smith, Reece, Hall, Eversham, Pike (sub 39 Nicholson), Pickard, Anderson - subs unused: Norris, Thomas (GK)
Scorers: Clark 52, Eversham 58
Bookings: Eversham (foul)
Referee: Mr G Singh
Attendance: 5,528
What the papers said:
Bucks Free Press - Claire Nash reporting from Adams Park:
Blues' first Football League double was secured with a first-half performance where they deserved more than a two-goal lead at half time. They created numerous enticing chances and had a valid penalty appeal turned down by referee Gurnam Singh after Jason Cousins was felled in the six-yard box on five minutes. But then a scrap ensued to hold on to maximum points Blues' rhythm was disrupted when they conceded a poor goal after the interval.
"It was a bad goal to concede," said Wycombe boss Martin O'Neill. "If it had been a bullet from 30 yards out the players would have dealt with it and got on with the game. But they were still moaning and groaning when Hereford scored their second goal."
Within six minutes it was all square with Steve Guppy's and Dave Carroll's explosive first-half headers now a distant blur. Neutral observers no doubt welcomed this near repeat of the seven-goal thriller at Edgar Street in August which Wycombe snatched 4-3. But it certainly wasn't good for Wycombe's nerves with a good win highly essential to stay in touch with Division Three's leading pack where Crewe have pulled away with an eight-point lead. Blues were steered home by captain Terry Evans' fourth goal in as many games, which he scored within a minute of Hereford's equaliser.
O'Neill was pleased with Wycombe's first-half form. "It was electrifying. We should have been three or four in front. Hereford were totally outplayed. But they are no different to any other side in this division, if they are given an opportunity they seize it." Steve Thompson, in his first start for nearly two months, left Hereford chasing shadows. He dictated distribution around the box, so much so that fellow central midfielder Keith Ryan was at a loss for things to do at times.
It was Thompson's 14th- minute cross to the far post which Guppy buried in the back of the net with an excellent diving header. Wycombe's most lethal forays came from the right, with winger lurk momentarily before being Carroll engineering impressive reeled in after pulling a calf opportunities. While Guppy and muscle just before the break. Tony Hemmings did likewise on the left. Carroll scored Wanderers' second when Guppy's free kick found him completely unmarked at the near post. Further chances came Wycombe's way. A move started by Thompson was taken up by Guppy whose cross to Hemmings in the box deserved better than a skewered header off target.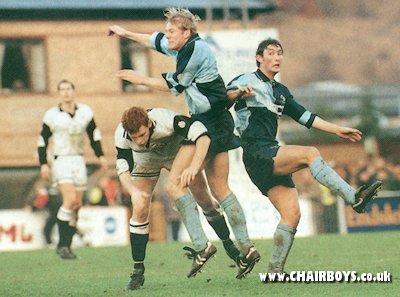 On-loan striker Lee Hodges also missed a good opportunity on 43 minutes after being found perfectly placed in the centre, but his well drilled shot went the wrong side of the near post. Hereford's leading scorer Chris Pike was only allowed to lurk momentarily before being reeled in after pulling a calf muscle just before the break. His replacement Max Nicholson helped to add a new dimension to Hereford's play. It was his deep ball into the box which led to Hereford's first goal. Owen Pickard managed to keep the pass in play from the byline for Howard Clark to stab in at the near post. Within six minutes a now-inspired Hereford drew level. Wycombe were forced to chase with the visitors transformed into fine exponents of one-touch passing. Their second goal was a stinging individual effort from Paul Eversham who swerved a 35- yarder around Paul Hyde's diving body at the far post.
Blues hit back almost immediately with Evans' firm header from Carroll's corner. Hereford's heads stayed up though and kept the pressure on. Full back Clark, now playing up front instead of Pike, let rip with a long-range shot which jarred in Hyde's hands before the keeper smothered it. Hereford really should have scored when an excellent pin-ball pass build up found Hall well placed, but the midfielder couldn't capitalise. Wycombe surged back in the last ten minutes, forcing a flurry of late corners. Their best chance came from Tim Langford who escaped the attentions of defender Davies to force a fine save from Alan Judge on 89 minutes.