Scunthorpe United 0
Wycombe Wanderers 0
Saturday 6th November 1993
Football League Division Three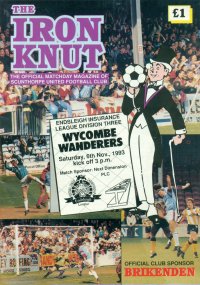 The push for promotion in 1993/94 continued when Wanderers made their first ever trip to Glanford Park to play Scunthorpe United who were 8th placed in the table but just two points behind O'Neill's boys. It turned out to be a hard fought point as the two teams played out a 0-0 draw in a game of limited chances for both sides. Team news at Scunthorpe saw Tim Langford return after his hernia operation while defender Darren Rogers was included on the bench on loan from in what turned out to be only appearance for the Wanderers. Former Wanderer Matt Carmichael provided the biggest threat from the opposition while one of Wycombe's rare assaults on goal saw Keith Ryan smash part of the advertising boards above the away end.
With League games gone in 1993/94, Wycombe were 5th in the table with 25 points. Top were Preston (32 points), 2nd Crewe (31 points), 3rd Chester (26 points) and 4th Walsall (26 points). Wanderers would now take a break from League action for a couple of weeks, with visits to Brentford and Bristol Rovers coming up in the AutoGlass (Football League) Trophy and FA Cup respectively.

Wycombe: Hyde, Cousins, Horton, Crossley, Evans, Ryan, Carroll, Langford (sub 73 Rogers), Thompson (sub 65 Hemmmgs), Scott, Hayrettin - sub unused: Moussaddik (GK)
Scorers: none
Bookings: none
Scunthorpe: Samways, Alexander. Mudd, Hope, Knill, Bradley (sub 56 White), Thompstone, Thornber, Carmichael, Toman, Watson (sub 62 Smith) - sub unused: Wilmot (GK)
Scorers: none
Bookings: none
Referee: Mr J Watson (Whitley Bay)
Attendance: 3,604
What the papers said:
Bucks Free Press - Claire Nash reporting from Glanford Park:
Wycombe extended the sole surviving unbeaten away record in the Endsleigh Insurance Football League with a hardfought goalless draw at Glanford Park. Blues boldly matched their opponents in a performance as impressive, in its way, as last week's 4-0 win over Scarborough. They admittedly should have capitalised on a handful of chances to snatch three points in a tight contest at Scunthorpe's modern, but spartanly dull, stadium.
But the game could so easily have slipped from their grasp had Paul Hyde not magnificently denied full back Graham Alexander's fierce late strike. The industrious endeavours of Wycombe's defence, by Terry Evans and Matt Crossley, were also a saving grace when Scunthorpe replied in kind to Wanderers' pressure.
Richard Money's men had earlier showed genuine generosity when they loaned a set of light blue socks to Wanderers, who could not wear their second-strip white variety because they matched the home side's.
While Wycombe's new combination of green, white and blue was a winceful sight, the action on the pitch certainly wasn't. The return of Tim Langford after a hernia operation, and the introduction of Darren Rogers, a Birmingham City defender who joined Blues for a month's loan on Friday, were welcome boosts to Martin O'Neill's line-up which missed flu-stricken Steve Guppy.
The absorbing first half deserved at least a goal apiece to set things up for a thrilling finale. Wycombe started brightly, with affairs soon briskly flowing from end to end. Langford and Steve Thompson unsettled Scunthorpe with their darting runs forward, with the latter providing Keith Scott with one chance in the 21st minute. The tall striker thundered through the centre, beating two defenders to latch onto Thompson's pass, but his strike narrowly missed the near post.
Dave Carroll at one point literally got centre half Alan Knill's legs in a twist with a good cross but the defender, having his second look at Wycombe after signing from Bury for £25,000 on Friday to replace Oxford-bound Matt Elliot, recovered to clear the danger. Scunthorpe's assaults were led by former Wanderer Matt Carmichael, who played for Wycombe during the 1987/88 season, up front and impressive teenager John Watson in midfield. The latter supplied lan Tompstone with a delicious ninth-minute cross from the right which Tompstone narrowly failed to connect with as it sped across the goalmouth. Carmichael zapped past Duncan Horton at one point and bore down on goal only to shoot into the side netting, and came close with a thundering 36th minute shot over the bar which followed Thompstone's good work and cross from the wing.
Scunthorpe dominated possession in patches, passing the ball around nicely to force Blues to do the running, but the final ball was not always consistent and the finish not quite there. Wycombe hustled back to break the deadlock after the interval when Keith Ryan's shot was deflected onto the top of the bar in the 46th minute. The shot was hearteningly more on target than a first half effort that was hit so hard and high that it smashed the K in Yorkshire Electricity which emblazoned the stand behind the goal.
Blues had a string of corners on 52 minutes, from one of which Crossley had a shot cleared. Then Langford missed at close range two minutes later from Hayrettin's pass. Scunthorpe lost their way for a spell and mysteriously Watson was taken off. But Money's substitutions, Mark Smith had earlier replaced Russell Bradley, almost paid off, as the hosts turned the tables back on Blues with 25 minutes left. It was Scunthorpe's turn to force a rash of corners which tested Crossley and Evans.
Andy Toman fired narrowly over before right back Alexander let rip with a rightfoot shot from all of six yards, but Hyde's reflexes were equal to it as he leapt to his left to tip the ball away. Just as Scunthorpe continued to paint pretty patterns in the turf Tony Hemmings, who had replaced Thompson, came close to upsetting their rhythm when he was slightly off-target with a shot aimed at the top right hand corner of the net.
One last chance came Wycombe's way with an injury time free kick. It begged a Jason Cousins special of the Coventry variety, but although the right back's 25- yard effort was on target, it went straight to keeper Mark Samways.