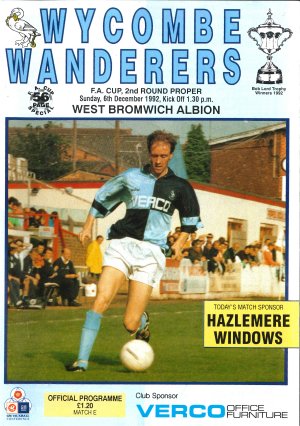 (research and memories by Paul Lewis - first published 6th December 2017 to mark the 25th anniversary)
A comfortable 3-1 victory over Merthyr Tydfil at Adams Park in the First Round Proper of the 1992/93 FA Cup had rewarded Wanderers with a plum home tie with Ossie Ardiles' West Brom side in the following round. The tie proved to be dramatic affair played out before a then record Adams Park gate and also broadcast live by Sky Sports. It would pitch Martin O'Neill's side further into the media spotlight and eventually set the tone for a season when Wanderers dominated non-League football.

At the time of the draw, Wanderers were already sitting pretty at the top of the Conference table - a massive 13 points clear of second placed Slough Town. The FA Cup proved a welcome relief from the pressure of achieving the ultimate aim of promotion to the Football League and when the prospect of playing Division Two high fliers West Brom at home was revealed, local excitement levels reached fever pitch. Sky were also quick to pick the tie for live coverage - prompting the clash to be moved to Sunday 6th December, with a 1.30pm kick-off. The media rights would earn Wanderers an estimated £48,000.

Demand for tickets for the tie was predicted to be high and with Adams Park restricted to a capacity of around 7,100 there were initial discussions behind the scenes to move the tie to much larger capacity Hawthorns. Commenting on the draw, Martin O'Neill said: "One piece of good news is that it will be two excellent footballing sides against each other. I'm adamant it will be played at home - we've got a chance." However, Wanderers Financial Director Graham Peart was quoted in the press as saying: "If it was the Third Round and we drew Manchester United or Liverpool here, my vote would be to play it away. Then everyone who wanted to could see it." However, despite requests from West Brom to move the tie to The Hawthorns, Peart was in a minority with his fellow board members and the tie remained at Adams Park.

Entrance prices were retained at Wanderers usual League rates, with home fans allocated 5,000 tickets and initially limited to one each for Season Ticket holders, Vice-Presidents and League Line members. The Club were also encouraging fans to buy partial Season Tickets to guarantee a ticket. An estimated 2,750 remaining tickets would go on general sale on Sunday 29th November, again with a limit of one per person. The Club received criticism for their allocation methods but despite the concerns there were still a few tickets left after general sale on the Sunday - although, these were quickly snapped up the following day to ensure a sell-out - West Brom fans also quickly grabbing their allocation of 2,100 in one day of sales.

With the ticket debate aside, talk could return to Wanderers chances of progressing to the Third Round for the first time in seven years. To achieve this they would have to overcome a Baggies side that had thrashed Aylesbury United 8-0 in the First Round before a 12,000 plus gate at The Hawthorns. The previous season they had eliminated Marlow 6-0. Although a home defeat to non-League Woking in the 1990/91 campaign was still a relatively fresh memory for West Brom fans and the trip to Adams Park to play Wanderers had all the makings of the classic 'potential banana-skin'.

Team news ahead of the tie saw Wanderers central defender Andy Kerr suspended. The West Brom born player had been sent-off in Wycombe's 2-1 defeat at Runcorn two weeks before the FA Cup tie. His one-match ban for a 'professional foul' would kick-in on the weekend of the Second Round games. Kerr said: "I'm absolutely gutted. Bad luck seems to follow me around." But he added: "If the lads were get a replay, I'd be available for selection - at my old hunting ground." Regular midfielder Simon Stapleton would deputise at the back in place of Kerr.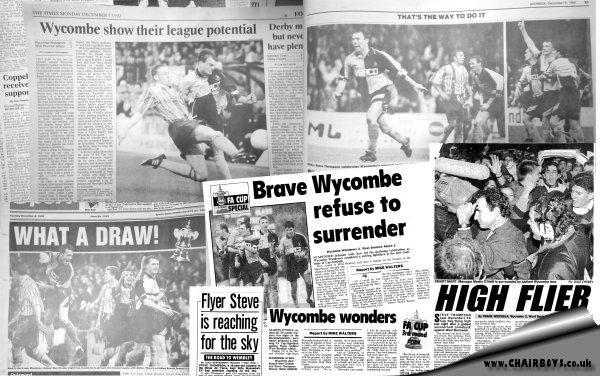 So to matchday and anticipation of the tie produced an electric atmosphere as the 1.30pm kick-off approached. But as the match got underway Wanderers were soon subdued by an early injury to striker Kim Casey. Roared on by the Wanderers fans, Keith Scott powered down the left wing before delivering a perfect cross for Casey. However, the former Kidderminster man sent the ball wide with a brave diving heading before colliding with West Brom 'keeper Stuart Naylor. There was barely a moment to discuss the injury (later reported as a dislocated shoulder) before the Football League side had taken the lead. There were just over 10 minutes on the clock when Bernard McNally laid the ball back to Darren Bradley to sweep past Paul Hyde from 20 yards and into the back of the Valley End net.

Scott had a half-chance at the other end on 14 minutes when he just failed to captilise on substitute Dennis Greene's through ball from the left of midfield but Wanderers were left chasing shadows for the vast majority of the remainder of the opening 45 minutes. It was somewhat of a relief for Wycombe followers that the score was still only 1-0 as the tie headed towards the interval but another clinical move from the vistors on 42 minutes ended with Bob Taylor smashing home a second goal to make Wanderers' chances of a place in the Third Round look extremely bleak.

Half-time Wycombe 0 West Brom 2

Stand-in central defender Simon Stapleton spent half-time receiving treatment on a neck injury but re-emerged for the second-half hoping, along with his team-mates, of better fortune. The first 15 minutes of the half gave no indication of events to follow later in the game. With West Brom's influencial attacking midfielder Simon Garner running the show, it seemed just a matter of time before the visitors added to the scoreline. Wanderers 'keeper Paul Hyde also excelled, tipping a Taylor header onto the crossbar from a Garner cross. Gary Strodder was also guilty of missing a decent chance as Wycombe hung in ready for their 'Plan B' to take effect.

It was a change of tactics by O'Neill on the hour mark that would change the complexion of the tie. Stapleton was shifted back to his regular position of midfield and the Wanderers defence went to a back three. The breakthrough would come with just 20 minutes remaining. Stapleton sprinted down the right wing to force a corner that Steve Guppy floated in for Glyn Creaser to head past Naylor - cue the Valley End and Woodlands terraces to erupt. Game on!

Wanderers pressed but as the clock ticked down it looked very much if the chance of snatching a replay was drifting away. Simon Hutchinson went close with a header, before Stapleton and Dave Carroll also had shots saved. It was left for Wycombe's influencial midfielder Steve Thompson to grab much of the headlines when his bobbling 85th minute shot from around 25 yards found its way through a group of players and a bemused Naylor and into the back of the Valley End net to spark some of the wildest scenes ever witnessed at Adams Park.

There was still time for Hyde to pull off another save to deny Donovan but Wycombe had earned their draw and a replay back at The Hawthorns on Tuesday 15th December. There were joyous scenes at the final whistle as Wanderers fans spilled onto the pitch to congratulate the players and management team. Many fans then made their way to the away end to applaud the travelling fans supporting the midlands side.

Full-time - Wycombe 2 West Brom 2

Wycombe: Hyde; Cousins, Crossley, Hutchinson, Creaser, Thompson Carroll, Casey (sub 5 Greene), Stapleton, Scott, Guppy - sub not used: Buckle
Scorers: Creaser 70, Thompson 85
West Brom:Naylor; Reid, Lilwall, Bradley (sub 76 Williams), Raven, Strodder, Garner, Hamilton, Taylor, McNally, Robson (sub 51 Donovan)
Scorers: Bradley 11, Taylor 42

Referee: Mr Keith Cooper
Attendance: 6,904

Speaking after the game a beaming Martin O'Neill said: "I'm ecstatic, this is just fantastic. I cannot express adequately how thrilled I am for the Club. I don't know how it will go in the replay, but we have all enjoyed this one. It has given us a real insight into what we can expect if we are promoted to the Football League at the end of the season - and that remains a priority for us."

West Brom boss Ossie Ardiles added: "Everyone expected us to fall here, so at least we have proved them wrong. But we paid the price for missing so many chances."

Meanwhile, O'Neill added: "I was wondering before the game whether players that train two nights a week would be fit enough for a team like West Brom. This performance shows we are ready for [the Football League]."

Commenting on the game, O'Neill said "From when we got the first goal, we actually ran the rest of the game from then on. I felt we deserved our equaliser, and if could have got a half-decent cross into the box into the box in the final six minutes, we could have nicked it. The directors were pretty pleased, they were shouting for offside against us in the final minutes!"


Video memories





[Next - Wanderers' replay battle at The Hawthorns]