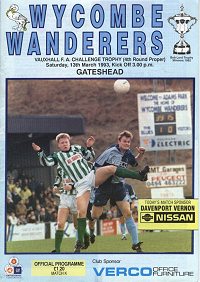 Wanderers went into the home Conference game with Kettering Town, on Saturday 6th March 1993 protecting a ten match unbeaten run but goals from Phil Brown on 29 minutes and David Hodges three minutes before the break had the home fans stunned. A late headed goal by Andy Kerr promopted a late rally but Wanderers were left to look back on their first league defeat at Adams Park since 28th September 1991.
Martin O'Neill said afterwards "I think you can safely regard that as our worst performance here since we played Cheltenham on Boxing Day over two years ago. And not just because we got beaten. There was a real lack of real desire, we looked legless and the England players looked absolutely legless". The Wanderers gaffer was referring to the four Wycombe players who had played in the previous Tuesday's Semi-Pro international for England vs Wales - namley Andy Kerr, Simon Stapleton, Steve Thompson and Steve Guppy.
But there would be little rest for the Wycombe squad between now and the end of the season. On the Tuesday after the Kettering game a goalless draw at Dagenham and Redbridge ensured a passage to a two-legged final of the Drinkwise Cup versus Northwich Victoria and the following Saturday it was a home FA Trophy Quarter-Final tie against Gateshead on Saturday 13th March 1993.
The Gateshead programme gave Martin O'Neill the chance of another rant at a misguided Wycombe supporter who had decided to write to the local press and criticise O'Neill's team. Take it away Martin..."I noticed a letter by Mr. Haines in the Bucks Free Press, comparing our team with Brian Lee's side in the early 70s and complaining of lack of fitness of the team today. I am not remotely concerned about comparing the current side with Wycombe Wanderers teams of almost 20 years apart - I was too busy in those days winning League Championship and European Cup medals - but I may wish to defend my squad where fitness is concerned. Mr. Haines remarked that we score first and then hang on "more by luck than judgement until the final whistle". First of all let me apologise to Mr. Haines for attempting to score first in any game. That is an unfair tactic used by me and I shouldn't be so ungracious as to attempt such a ploy. However his argument just errs slightly. I'll take part of August and September for example. After coming from behind to draw away to Macclesfield, we beat Welling 3-0, Farnborough 2-0, Telford 4-0, Boston 3-0, Merthyr 4-1, Yeovii 5-1 (this is getting boring Yawn! Yawn!) Bromsgrove 4-0 and Kettering 4-0. In all of those matches we did the dirty trick of scoring first, unfortunately, we did theopposite to what Mr. Haines said and went on to score quite a few more goals in each of those games.
Strangely enough we came from behind again to draw at Witton, Welling and Stalybridge (this is getting really monotonous) but I take your point Mr. Haines. Interesting to hear Keith Burkinshaw's comments after we played West Bromwich Albion in the FA. Cup. "We were waiting for Wycombe to wilt in the second half, but they just kept coming at us. We were all amazed by their fitness and courage." Mind you, what would Keith Burkinshaw know about the fitness of players? He was only the Manager of Tottenham Hotspur for seven years. If I told you that Steve Thompson, arguably man of the match at the Hawthorns, was doing exams in his RAF camp at Leatherhead that very morning of the game - at a quarter to eight, maybe you'll have a different opinion about the team's fitness and commitment. Alan Hansen said on Saturday night that at this stage of the season players play games and then rest, and there's no need for hard training (and he's talking about FULL TIME professional players) He knows nothing either!! Just a reminder Mr. Haines. We, as part time players, chased full time - yes, their only job - Colchester United all the way last season to a record 94 points, won the Bob Lord Trophy and the Shield and played more games than any other Vauxhall Conference team and will do so again this season - well, I won't be seeing you on top of Tom Burtt's hill next week, but I'll try to get the team winning some trophys my silly old way this season - for your pleasure and delight!!"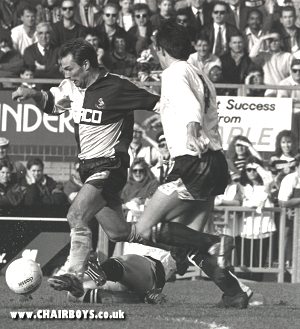 Returning to game with Gateshead, the tie attracted a gate of 4,795 to Adams Park and it looked like a replay was on the cards as the game entered the final minute with score still locked at 0-0. The replay had provisioanlly been arranged to be played at St.James Park but in one last effort to win the tie Guppy set off on a run down the left before smashing the ball home into the Valley End net. The fans went crazy and Gupps, who had a well publicised fear of flying, could relax in the knowledge that there would be no midweek flight to the north east.
The celebrations when Guppy scored bordered on pandemonium. Jason Cousins managed to catch up with Guppy during the celebration despite being well in his own half when the ball hit the net. He told the press later "I came from my own half to celebrate and broke my own speed record. I'm one of the slowest at the club but I let myself go there. It's just as well the final whistle went straight after they kicked off because I'd used up all my energy"
The victory set-up a two legged semi-final with Sutton United and Cousins was looking forward at the chance of playing at Wembley Stadium. "I've been to the dogs a few times but I've never graced the turf - it's the home of football. Earlier today, Stapes showed me his medal (from 1991) and I've seen the video six times"
Wycombe line-up vs Gateshead: Hyde, Cousins, Ryan, Kerr, L Thompson, Casey, Greene (sub 59 Hutchinson), S Thompson, Stapleton, Scott, Guppy - sub not used Gooden - Att:4,795

[Previous - Scotty dives into Quarter-Finals] --- [Next - Pack em in vs Slough]