FROM THE ARCHIVES
ALL THERE IS TO SAY AND KNOW ABOUT WYCOMBE WANDERERS ON THE INTERNET....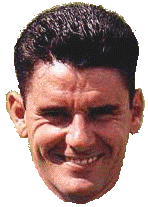 WHY GREGORY LEFT
Speaking at a press conference at 5.00pm on Wednesday 25th February, John Gregory said "It is a great opportunity. I didn't need too long to think about it and I certainly didn't want this chance to pass me by" Gregory's goes straight in at the deep end with his first games in charge being the visit of Liverpool to Villa Park in the Premieship, followed by the midweek trip to Athletico Madrid in the UEFA Cup.
Speaking to the Bucks Free Press Gregory said "I had to take it, they are a massive club. Whatever happens in the next five years I would have regretted it if I hadn't gone...It's an amazing move for me and I'm still in shock." Talking about leaving Wycombe behind, he said "Leaving had been awful. I'm extremely regretful and very dissapointed that I haven't left Wycombe higher up the league." He also added "It has been a pleasure to be associated with Wycombe and the club will always be very special to me" Wycombe Chairman was said to be shellshocked by the events and said "It's a catastrophic day but we couldn't stand in his way"
---
Back to the lead story
---